NIGHT OUT FOR THE BMI
THURSDAY, JUNE 16, 2022
6 – 10 PM
Tickets: $75 Per Person
Are you ready for a fun-filled night out on the waterfront? Tickets for this casual, in-person fundraiser include all you can eat, drink, & play in the ample spaces of the Baltimore Museum of Industry's galleries & waterfront pavilion. While you dine with friends, play a round of mini-golf for prizes, or try your luck winning the Wagon of Cheer, you'll be providing critical support for the BMI's educational programs.
BECOME A SPONSOR!
Take this opportunity to make a larger impact and promote your business. Contact Deborah Cardin, Director of Development to become a Night Out sponsor. dcardin@thebmi.org.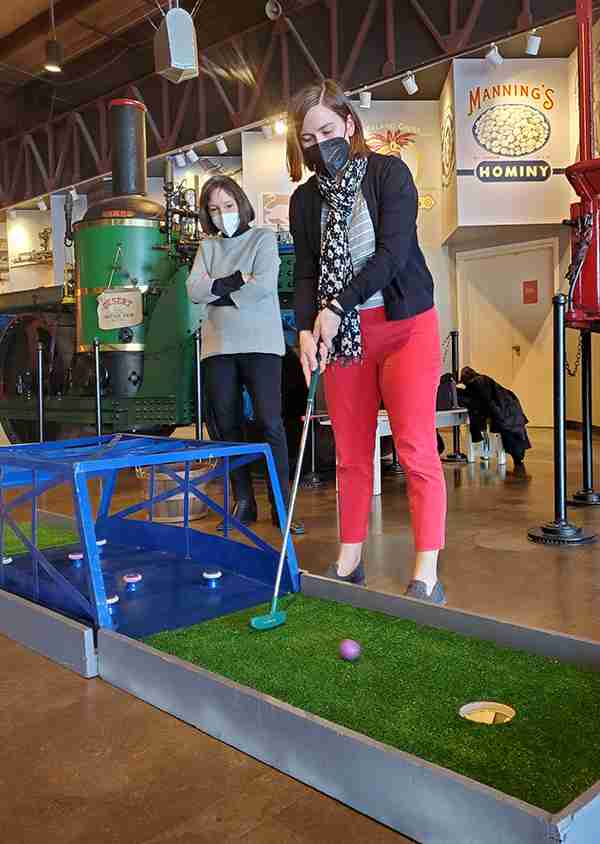 You and your friends can "play through" for prizes in the BMI's galleries and waterfront pavilion.
Night Out Sponsors
The proceeds from this event fund the development of interactive educational programs to engage kids in learning about Baltimore's industrial history and the hard-working people who are a part of that story. Thank you to the sponsors whose generous support makes it possible to inspire the inventors and innovators of tomorrow.
Scott and Amy
Ensor
The Novak
Family
The Kovars-Swanson
Family
Thank you for your support
The Baltimore Museum of Industry is a registered 501(c)(3) nonprofit organization. Your gift(s) to the Night Out Fundraiser are deductible for Federal Income Tax purposes in accordance with existing IRS regulations. Please consult your tax advisor.
Legal Name: The Baltimore Museum of Industry
Address: 1415 Key Highway, Baltimore, MD 21230
Federal Tax ID Number: 52-1205675