Exhibitions
The exhibitions at the Baltimore Museum of Industry document the stories of the workers and entrepreneurs who built Baltimore into a manufacturing powerhouse.
Baltimore has long been recognized as a major industrial center and is home to the nation's first passenger railway, oldest gas company, first traffic light, and many other inventions and innovations.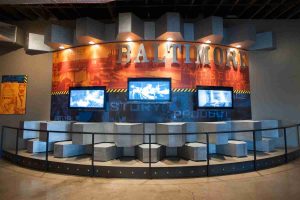 Permanent Exhibitions
Step Back in Time to the Early Days of a Port City… From Baltimore's early days as a trading port and hub of manufacturing to its modern identity as a center for research, retail, technology, and tourism, visitors can discover the businesses and inventions that forged the Industrial Revolution and propelled Maryland into the 21st century.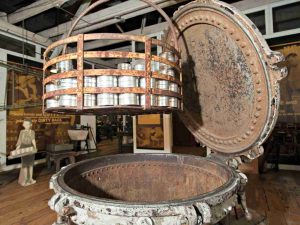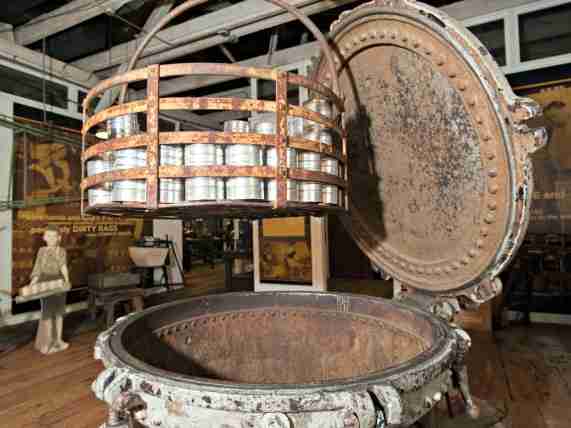 Cannery
Walk through the 1865 Platt and Company oyster cannery, the only surviving cannery building in Baltimore.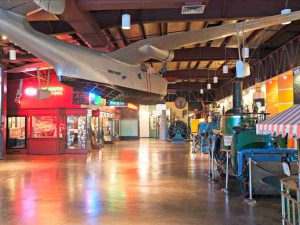 Decker Gallery
Stand beneath the 1937 Mini-Mariner, the flying prototype of a WWII PBM flying boat bomber, restored by some of the same Baltimore-area workers that built it.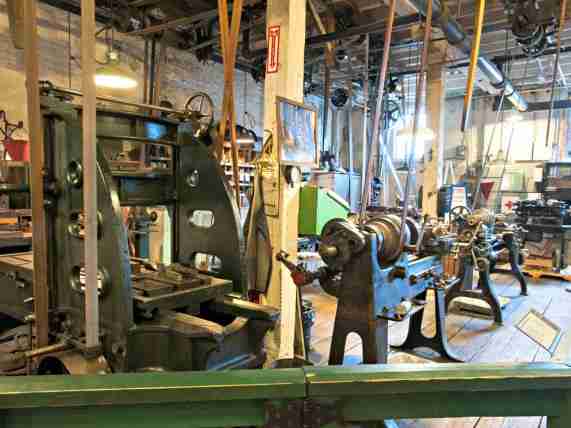 Machine Shop & Forge
Feel the heat of the forge and the vibration of a belt driven machine shop. Live demonstrations most Saturdays.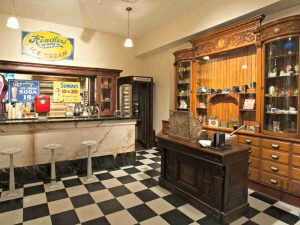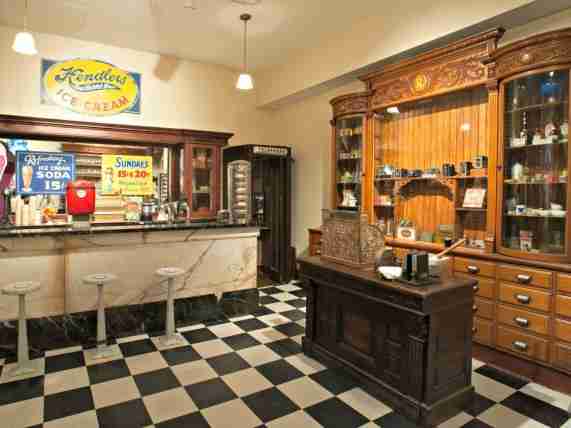 Pharmacy
Step into a 1910 pharmacy, like the one where world-famous Noxzema skin cream was invented.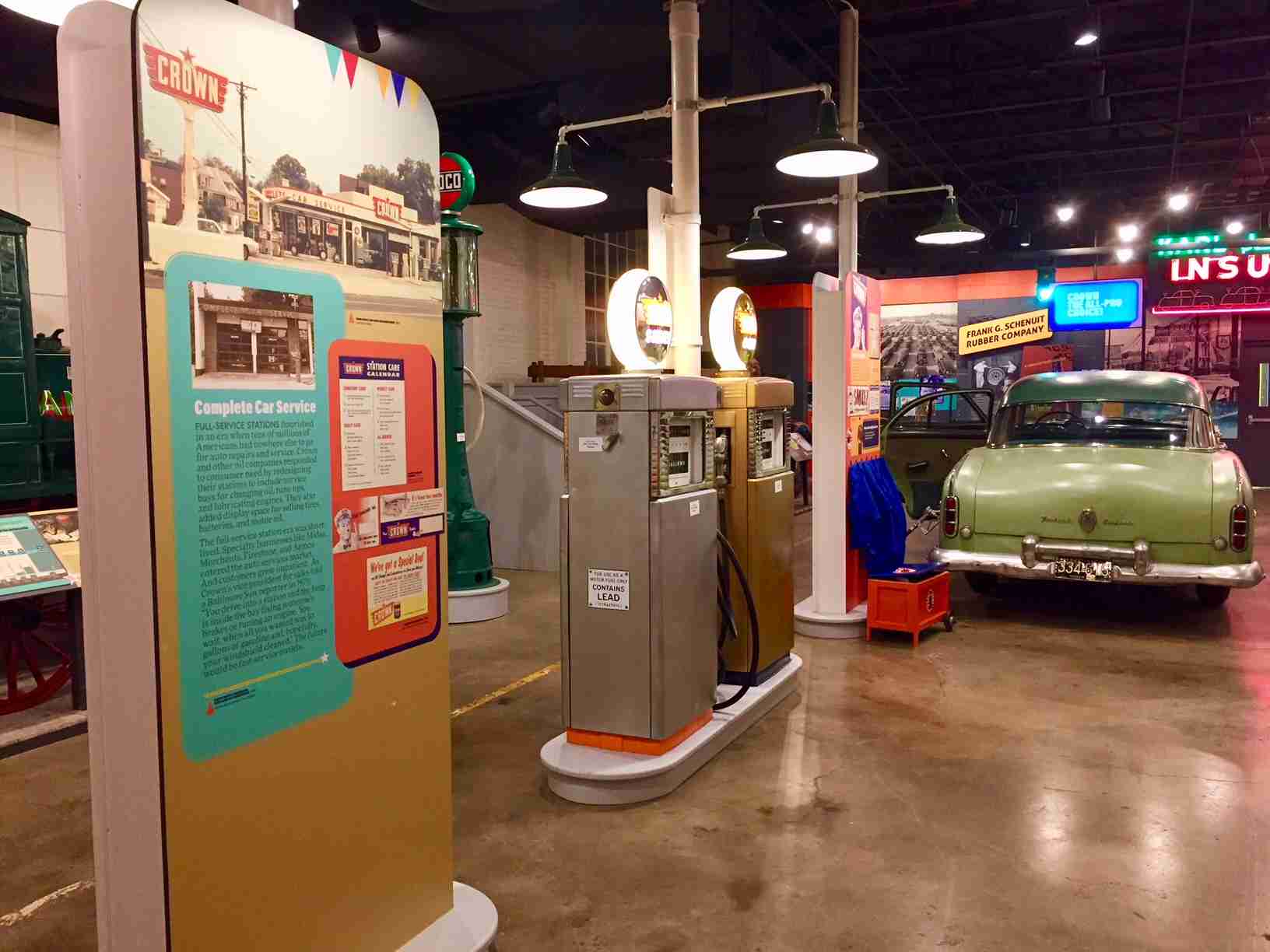 Fueling the Automobile Age
Explore how the two local oil companies helped fuel America's automobile age. Learn more.
Communications Gallery
Find out how telecommunications have changed from the time of the telegraph to the age of the smartphone. Learn more.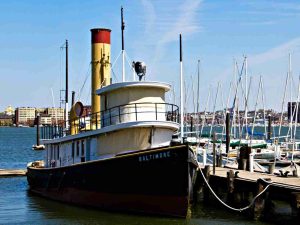 Steam Tug Baltimore
Look outside for the 1906 steam tug Baltimore, once the official welcome vessel for the City of Baltimore. Learn more.
Temporary Exhibitions
SHUTTERED: Images from the Fall of Bethlehem Steel
From 1887 to 2012, the Bethlehem Steel mill at Sparrows Point provided steady if dangerous work for tens of thousands of men and women. Steelmaking was more than just a job to these workers—it was a way of life that built stable communities, strong human bonds, and a unique industrial landscape.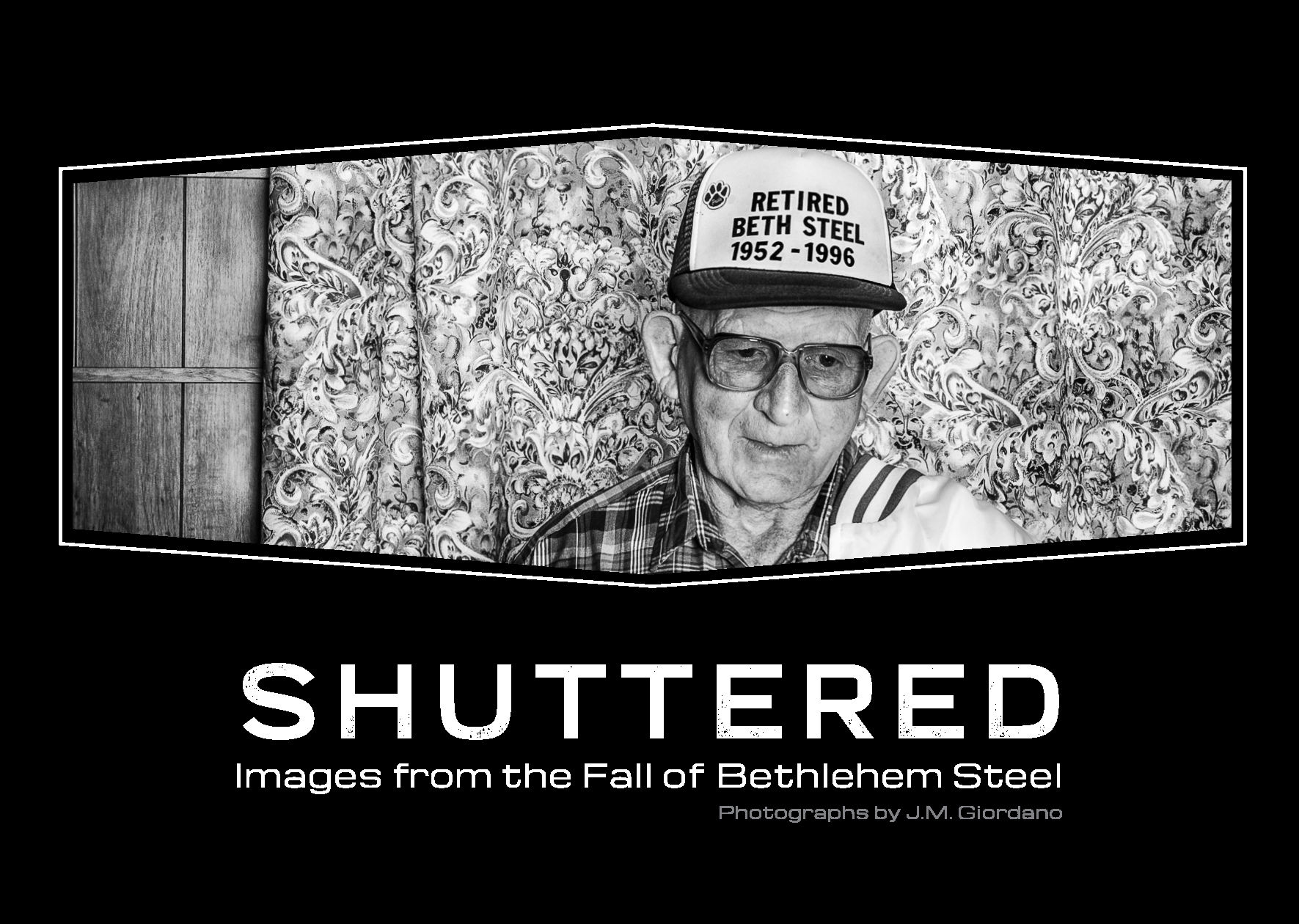 With the shuttering of the Point's blast furnaces, the world inhabited by local steel workers took a number of hits, and the effects continue to reverberate today. The grandson of a steel worker, award-winning photojournalist J.M. Giordano has spent more than 15 years capturing the impact of the mill's decline and closure on his hometown of Baltimore. What do you do, Giordano asks, when the only lifestyle you've ever known—an industrial lifestyle passed down by family, friends, and coworkers for generations—becomes obsolete?
This question follows visitors as they explore the new exhibition Shuttered: Images from the Fall of Bethlehem Steel. Visitors will witness a powerfully original exhibit of photographs by J.M. Giordano exploring the impact of the closing of the Bethlehem Steel mill at Sparrows Point on the people who worked there and the community it supported.
Shuttered is made possible with generous support from Howard Bank and the Delaplaine Foundation.
Video Game Wizards–Transforming Science and Art into Games
This interactive exhibition allows visitors to immerse themselves in the exciting process of creating their very own video game.
Video Game Wizards provides an interactive environment where visitors can explore how their talents, skills and passions could lead to a career in the interactive entertainment industry. The exhibit's six stations provide an opportunity for visitors to meet game makers and learn about their roles, while making and customizing a game using the skills demonstrated at each station.
Visitors will experience the collaborative process of video game development at every point in the exhibition. At the end, visitors are able to play their own game and share it on the exhibition's website with family and friends, and will be able to play any of the games developed at the exhibition. Please visit www.videogamewizards.org to play your game and learn more about this fascinating industry. This exhibition will be open through 2020.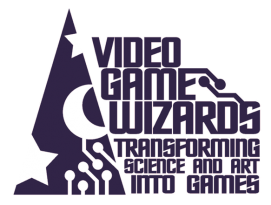 Video Game Wizards—Transforming Science and Art into Games was developed by the Baltimore Video Game Wizards, Luci Creative, Ravenswood Studio, Silver Oaks Communications, Cerebral Lounge/Clean Cuts Music, and the BMI. A start-up grant was provided by the Maryland Film Office/Maryland Department of Economic Development. Photos provided by Luci Creative.
The 20th-Century Woman at Work
The way we dress for work can offer clues about what we do for a living, where we are employed, and even our professional rank. In some cases, work clothes help tell a story about the nature of working life. Through the twentieth century, women's role in the workforce expanded dramatically thanks to a rising economy, two world wars, new technologies, and vast social change.
Clothing worn and made by Baltimore women mirrored the changing status of women in the workforce. Early on, women were expected to wear dresses regardless of the rigors of the job. During WWII, female factory workers began dressing like their male co-workers. Pants eventually gained acceptance socially and at work as fashion trends responded to women's needs. "Power suits" materialized in the 1980s as more women entered management. One thing didn't change: as women made strides at work, they needed clothes that helped them get the job done.
The garment loft window's display of women work uniforms is curated by museum volunteer Debbie Farthing.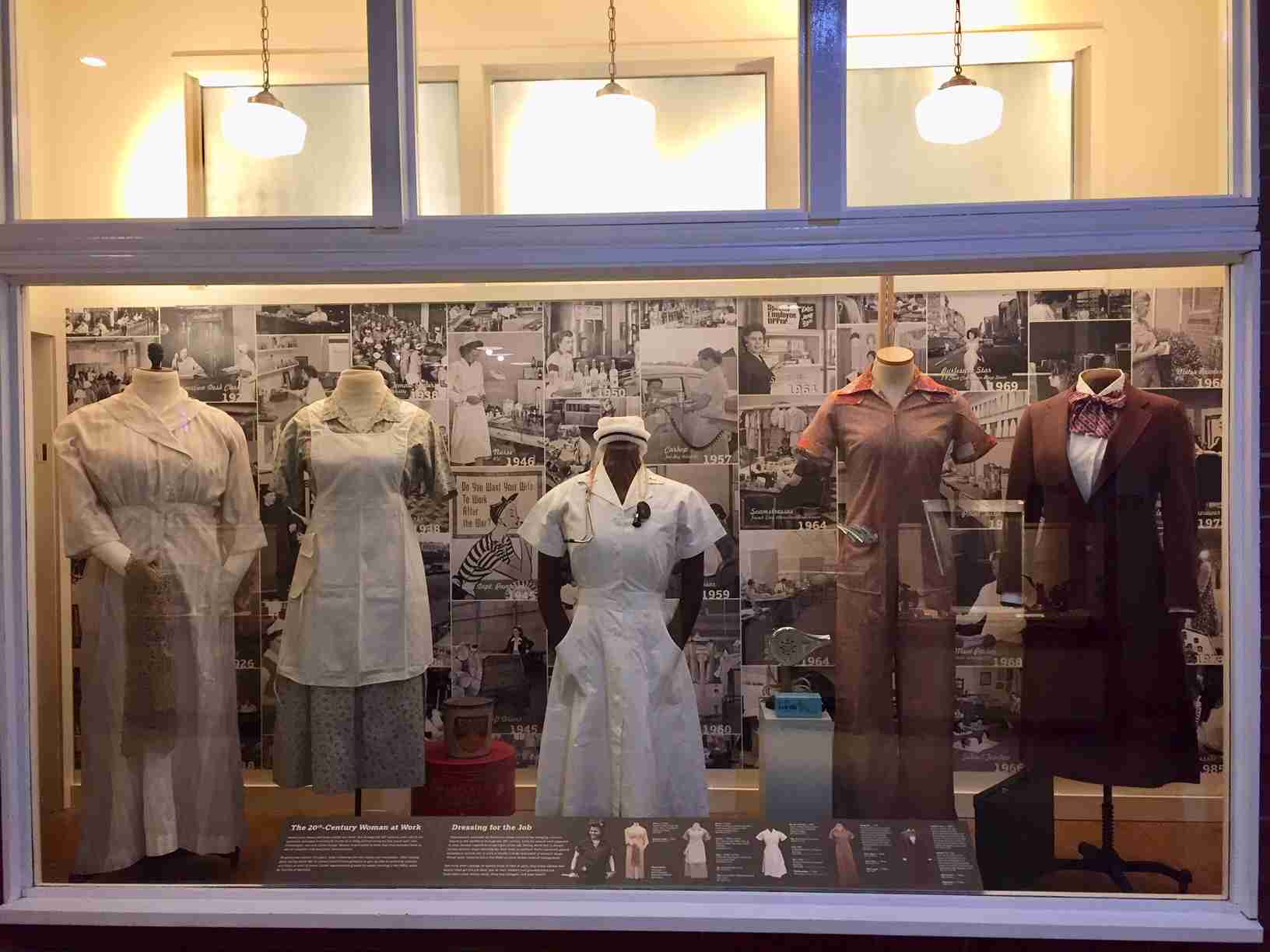 Past Exhibitions
The Baltimore Museum of Industry offers an ever-changing variety of exhibitions about our industrial heritage in our Temporary Exhibition Hall. Whether guest-curated, crowd-sourced, or managed by our own staff, these exhibitions have covered numerous industries of Baltimore's past as well as their modern legacies.
Please visit our Temporary Exhibitions page to learn about our current offerings.
REINVENTION: The Work of Chris Bathgate
Helen Delich Bentley Tribute
The Helen Delich Bentley Tribute featured a display of select dresses and hats bequeathed to the BMI by Congresswoman Helen Delich Bentley. Known as much for being stylish as she was for her groundbreaking career as a maritime reporter and elected official, Bentley wore garments that reflected her civic pride in supporting American designers. Four garments and twelve hats were displayed, including an ivory brocade cocktail dress with matching coat (circa 1960), Jeanette Beck label; a moss green and lavender mottled dress (circa 1960), Pauline Trigère label; and a deep brimmed hat covered with multi-colored feathers (1970s), Adolfo Saks Fifth Avenue label. The display also included photos of Bentley wearing the items featured. The tribute was curated by museum volunteer Debbie Farthing.
Then & Now: February 2016-March 2017
Then & Now: Baltimore in the Public Eye highlighted scenes of some of Baltimore's most iconic streets, buildings, and businesses.
Then & Now featured historic photographs from the museum's BGE archival collection paired with 'now' photos taken by the general public—professional and amateur photographers alike—that showed what those historic locations look like today. Starting with historic images selected from the BMI's own Baltimore Gas & Electric Company Photograph Collection, this exhibition used nearly 300 contemporary crowd-sourced photos to reveal a complex city whose past and present have been defined by shifts in the way things are made, how they are moved, and where people live, work, and play. This exhibition not only shed light on the momentous changes that Baltimore went through in the past, but also served as a guide to the changes it is likely to undergo in the future.
The Baltimore Gas and Electric archival collection consists of approximately 80,000 photographs and negatives. These images were taken as part of BGE's daily operations, and capture Baltimore's workplaces, cityscapes, and life in Baltimore from the late 1920s through 2001.
This exhibition was made possible with support from BGE.
Changing Baltimore: June 2015-March 2016
The Changing Baltimore: Share Your Voice exhibition explored the link between Baltimore's loss of manufacturing jobs and the spring 2015 protests around the city.
Changing Baltimore was inspired by a Tweet from the Orioles' Executive Vice President John Angelos, sent during the protests in the wake of the death of Freddie Gray, which read (in part) "My greater source of personal concern, outrage and sympathy beyond this particular case is focused neither upon one night's property damage nor upon the acts, but is focused rather upon the past four-decade period during which an American political elite have shipped middle class and working class jobs away from Baltimore and cities and towns around the U.S. to third-world dictatorships like China and others, plunged tens of millions of good, hard-working Americans into economic devastation."
Featuring eight stirring photos from local photojournalist J.M. Giordano, and quotes from a variety of voices—including Dan Rodricks of The Baltimore Sun, Gerry Sandusky of WBAL-TV, Louis Hyman of Cornell University, and others—the exhibition invited visitors to think about how the loss of manufacturing jobs impacted the people of Baltimore, and what the city's future holds without such jobs. Visitors were invited to leave comments on notes adhered to the exhibition itself.
J.M. Giordano, an award-winning photographer, graciously donated the use of his photos for Changing Baltimore: Share Your Voice.
Not Yet Lost: April 2015-January 2015
Not Yet Lost! The Art of Maryland Sign Painters featured the rich history of Maryland's sign painters and was guest-curated by Samantha Redles as her thesis for her Master of Fine Art degree at the Maryland Institute College of Art (MICA).
Not Yet Lost! highlighted local sign painters who transformed Maryland's visual landscape and examined the art of hand-lettered signs through the work of individual artists. The exhibition was an opportunity to experience rare photographs, artifacts, memorabilia, and original artwork and examine the processes behind different types of hand-lettering.
Redles' thesis reflected on a time before computers when sign painting dominated advertising. Trained craftsmen carefully painted all of the traffic signs, storefront signs, billboards, large advertisements, and more.
Not Yet Lost! The Art of Maryland Sign Painters is made possible through the generous support of: Sponsors—GableSigns & Graphics, Maryland Institute College of Art, MICA Graduate Studies, MICA Office of Community Engagement, Maryland State Arts Council, SMI Sign Systems. Lenders—Brendon Brandon, Gary Eddington, Linda Gillis, Ruth Jones, Bob Merrell, Colleen Olson-Bauman, Ole Olson. Contributors—Patrick & Veronique Caubel, Alice & Skip Guentensperger, Maryland Sign Association, Eleanor Miller, Steve & Lynn Miller, Jim & Peggy Nallo, Rick Parker, Lynn Redles-Goldberg, Ken & Linda Redles, George & Rebecca Zuck, Peter Zuck, Ray & Janice Zuck.
Baltimore Shops: November 2014-March 2015
The Baltimore Shops exhibition offered a look at many of the places and businesses that made shopping in Baltimore unique and highlighted the history of local public markets, department stores, and independent merchants and the impact they had on Baltimore life.
Baltimore Shops used photographs and objects from the BMI Collections to show how bustling 19th century markets, once-mighty department stores in the downtown shopping district, and local independent merchants have left a distinctive imprint on Baltimore. More than just places to shop, they became a way of life and an integral part of the character and identity of Baltimore.
"Tied up with Baltimore's rich retail history are memories of days gone by, of children shopping for shoes and seeing the giraffe statue in the Hess store, or of an identification card saved from a first job," says Jane Woltereck, Director of Collections. "We hope visitors will be transported back in time when they see this special collection."
Baltimore Shops was made possible by the hard work of a number of Collections Department volunteers, including: Debbie Farthing, Guest Curator; Gary Boats, Fabrication; and Caitlin Farthing, Graphics; as well as Molly Henderson; Megan Hipsley; Jessica Seaman; Cole Simon; and Anastasia Suryaputri.
Making Music: March 2014-October 2014
Making Music: The Banjo in Baltimore & Beyond featured banjos, sheet music, and profiles of local banjo makers, and explored how our city was instrumental in the history of American banjo music.
Throughout Making Music, we presented some of the ways in which banjo history is linked to a complex American past whose legacy is all around us. For nearly 300 years, the banjo has been a part of the American narrative, with the city of Baltimore playing an integral role in its legacy, from the manufacture of instruments to being the birthplace of some of the most highly regarded banjo players in history. Baltimore residents helped to transform the banjo into an icon of one of America's first popular music crazes, leading to its enduring presence in the hands of everyday Americans.
Today, the banjo's deeper cultural significance is increasingly found online, maintained within music communities, described in new scholarship, and expressed within local outreach efforts. Baltimore continues to be a hub of banjo talent and scholarship.
Making Music: The Banjo in Baltimore & Beyond was made possible by the efforts of guest curators and banjo scholars Robert B. Winans, Peter R. Ross, and Greg C. Adams, and with support from the Maryland Humanities Council and Maryland Arts Council.