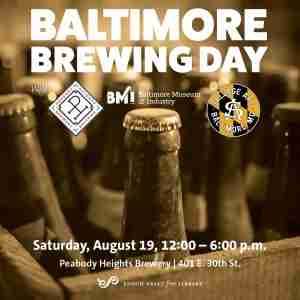 Saturday, August 19, 12:00-6:00 PM
Peabody Heights Brewery: 401 E 30th St, Baltimore, MD 21218
Free, no registration required
Join us at the inaugural Baltimore Brewing Day presented by Peabody Heights Brewing and Salvage Arc, in partnership with the Enoch Pratt Free Library and Baltimore Museum of Industry. Activities will include the release of SALVAGED LAGER: a collaborative beer release inspired by the techniques and ingredients of the late 1800s; a pop-up exhibit exploring the history of Baltimore brewing by Salvage Arc; a hands-on art history workshop sponsored by the Enoch Pratt Free Library; a preview of the new "Corner Bar" exhibition at the BMI and a chance to scan your historic images of bars with the museum's archivist; and a discussion with photojournalist J.M. Giordano on Baltimore bars and nightlife between 1-2:30 pm and sales of his book We Used to Live at Night from The Ivy Bookshop between 12:30-3.
We're looking for photographs of Baltimore bars, bar owners, and patrons from the late 19th to mid-20th century to be scanned and added to our collection. Bring your photos to Baltimore Brewing Day. Questions? Email Rachel Donaldson.
The Baltimore Museum of Industry celebrates the dignity of work, and can provide a forum for exploring such issues as workers' rights and workplace equity, providing historical context for contemporary issues that impact our community.