A rendering of the Women of Steel exhibition by designer Danielle Nekimken
by Claire Mullins and Beth Maloney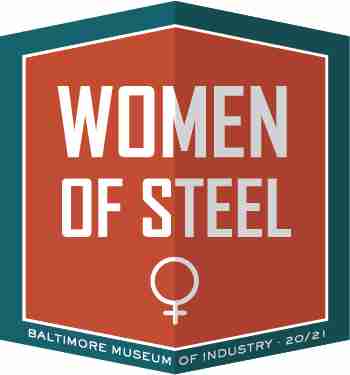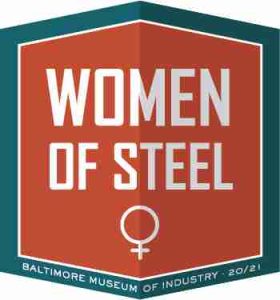 Towards the end of 2019, cultural institutions across the nation began announcing exhibitions and programs to celebrate the 100th anniversary of the ratification of the 19th Amendment, which gave women the right to vote. With our Bethlehem Steel Legacy Project—a multi-year initiative to preserve the stories of Baltimore's steel workers—already underway, we thought a deep dive into the stories of the women who worked at the mill would be particularly powerful.
Creating Women of Steel was a team effort. With no full-time curator on staff, people from nearly every department in the museum have a hand in creating temporary exhibitions. Seven BMI staff started meeting weekly in January 2020 to divide tasks such as reading books on the subject, watching films, getting in touch with local historians, attending union meetings, and reaching out to the women themselves, and in some cases, their families.
Other BMI staff secured funding, offered up artifacts, and thought through the logistics of installing the exhibition in our temporary gallery. We engaged a talented graphic designer, Danielle Nekimken, to transform this research into a reality. We turned to other friends of the museum such as labor historian Bill Barry, folklorist Michelle Stefano, community engagement consultant Deb Weiner, women's studies professor Kate Drabinski, and photographer Jennifer Bishop to help in other ways.
As we dug into the research, several themes began to emerge: good pay, dangerous work, harassment, fellowship, and childcare struggles. We opted to serve as a platform for the voices of women who experienced these issues, personally. Rather than writing our own scholarship on women working in the steel industry, we chose to highlight the experiences of a few of these women through existing oral history projects. We used social media, word of mouth, and online searches to track down photos of women at work at Bethlehem Steel.
Then COVID-19 hit.
Suddenly planning an exhibition became an exercise in public health. How could visitors maintain their social distance in a gallery that measures 16' x 16'? Seating and hands-on activities—two elements that we know visitors love!—had to be eliminated. Even if we could somehow get this all pulled together, would anyone be ready to visit a museum in the midst of a pandemic?
We decided to change course and do something we'd never done before: take the museum outside of our walls, literally. Our graphic designer Danielle reimagined this exhibition to fit a stretch of our fence along Key Highway where visitors could learn about the women steelworkers who sacrificed and toiled alongside men—doing the same work for less pay—in a safe way. Women of Steel will open on October 12, as part of the BMI's Week of Workers. You can check out the exhibition, free of charge, at any time. You can also access a virtual version here.
We're so proud of this exhibition. For many of us, it was the first time we'd created something of this magnitude. It provided not only a look into the life of the women of Beth Steel, but an opportunity to engage with our colleagues in a collaborative and creative way. It was a true labor of love, and we invite everyone to come explore the stories of the Women of Steel.
The Women of Steel exhibition was made possible through gifts from Tradepoint Atlantic, PNC Bank, Robert Patterson, The Macht Fund of the Associated, and the Alvin & Louise Myerberg Family Foundation.
Beth Maloney is the BMI's Director of Interpretation and Claire Mullins is the Director of Marketing and Events.