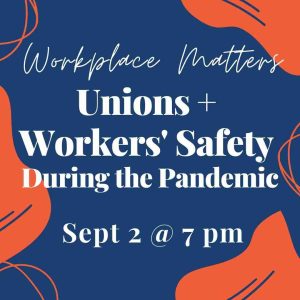 Unions + Workers' Safety During the Pandemic
The Baltimore Museum of Industry partnered with leaders from the Maryland & DC AFL-CIO for a conversation about the role of unions during the pandemic. What protections are in place, and how can unions ensure all working people are treated fairly in the era of COVID-19?
Wednesday, September 2, 2020
7:00 pm
Zoom
Watch the recording on YouTube here.
Panelist Bios
Moderator: Kate Drabinski, Senior Lecturer of Gender, Women's, and Sexuality Studies and Director of the WILL+ Program at University of Maryland, Baltimore County. Dr. Kate Drabinski is a Lecturer of Gender and Women's Studies and the Director of the Women Involved in Learning and Leadership (WILL) program at UMBC. She received her Ph.D. in Rhetoric with a graduate certificate in Gender, Women, and Sexuality Studies from the University of California, Berkeley and co-edited "Baltimore Revisited: Stories of Inequality and Resistance in a U.S. City."
Donna S. Edwards, President, Maryland & DC AFL-CIO A trailblazer and pioneer for women during her 40+ years of activism, Donna S. Edwards is the first woman to be elected President of the Maryland State and D.C. AFL-CIO. She was a social worker, strategic planner, and administrator for Baltimore City Department of Social Services from 1977 – 2001, where she was a stalwart advocate on behalf of all working families and low-income families. She received her Bachelor of Social Work from the University of West Virginia, her Masters of Social Work from the University of Maryland, and completed the labor relations program at the Harvard University Kennedy School.
Gerald W. Jackson, Secretary-Treasurer, Maryland & DC AFL-CIO
About the Partners and the Program
The Maryland & DC AFL-CIO is one of nearly 500 state and local labor councils of the AFL-CIO and are the heart of the labor movement. They are democratically elected bodies dedicated to represent the interests of working people at the state and local level. They mobilize their members and community partners to advocate for social and economic justice and they strive daily to vanquish oppression and make our communities better for all people—regardless of race, color, gender, religion, age, sexual orientation, or ethnic or national origin.

The Baltimore Museum of Industry celebrates the dignity of work, and can provide a forum for exploring how the pandemic has impacted – and continues to impact – people's experiences on the job. The BMI's programs and activities highlight such issues as workers' rights and workplace equity. The BMI's "Workplace Matters" program series explores contemporary workplace issues in light of the COVID-19 pandemic.