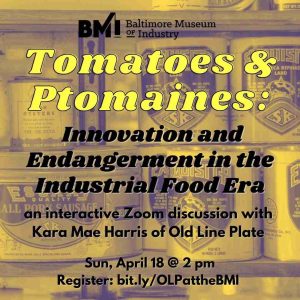 Tomatoes & Ptomaines: Innovation and Endangerment in the Industrial Food Era
At the end of the 19th-century, food production technology helped save time and even save lives. It also created new flavors and textures… and opportunities for dangerous food adulteration. Join Kara Mae Harris of Old Line Plate for an interactive discussion about the highs and lows of industrial food production. This one-hour Zoom meeting will include a brief presentation including items from the BMI's collections as well as time for participants to share their own experiences. This program will be recorded.
Sunday, April 18, 2021
2 pm
Zoom
Watch the recording here.
About the presenter
Old Line Plate is a website dedicated to exploring the foodways and cooking traditions of Maryland. For more than 10 years, Kara Mae Harris has been documenting her journey to find, cook, and eat historic, local recipes. Ms. Harris also maintains a Maryland Recipe Index with over 32,000 listings. Learn more from WYPR or Chesapeake Bay Magazine.
The Baltimore Museum of Industry celebrates the dignity of work, and can provide a forum for exploring such issues as workers' rights and workplace equity, providing historical context for contemporary issues that impact our community.