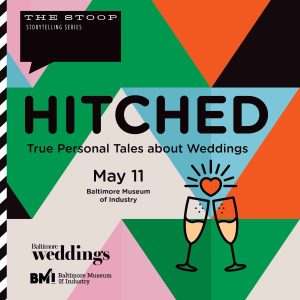 Wednesday, May 11, 2022 | 7:00-9:30 PM
$25 per person: Purchase tickets at stoopstorytelling.com

Hear extraordinary, true tales from seven "ordinary" Baltimoreans about weddings–from mothers-in-law and maids of honor, to caterers, couples, and crashers–in an evening with the Stoop Storytelling Series.
About the Partners
The
Stoop Storytelling Series
is a Baltimore-based live show and podcast that features "ordinary" people sharing the extraordinary, true tales of their lives.The mission of The Stoop is to build community through the sharing of personal stories. Stoop stories are not memorized, performed, or read. They're shared. Stoop shows are intimate and surprising, wonderful and weird, hilarious and heartbreaking.
Since its founding in 2006, The Stoop has featured the tales of more than 2,500 people onstage — including notable citizens such as Congressman Elijah Cummings, "Wire" creator David Simon, activist DeRay Mckesson, and Senator Barbara Mikulski.
The Baltimore Museum of Industry celebrates the dignity of work, and can provide a forum for exploring such issues as workers' rights and workplace equity, providing historical context for contemporary issues that impact our community.