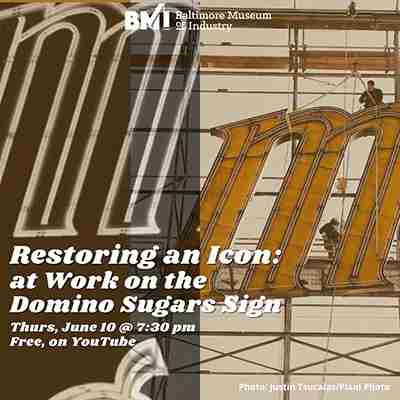 Restoring an Icon: at Work on the Domino Sugars Sign
Hear from the team maintaining the city's most iconic sign about the past, present, and future of this striking symbol of Baltimore's industrial heritage.
This program took place on Thursday, June 10 @ 7:30 pm
Watch the recording here
Learn more:
– Sign up to be notified when the Domino sign souvenirs are available in the BMI's gift shop: https://bit.ly/DominoSign
– Watch a brief history of Domino Sugars in this video produced by Baltimore Heritage: https://bit.ly/SoBoDomino
– Read about the sign replacement in the Baltimore Sun, Baltimore Magazine, and Baltimore Fishbowl
About the Program and Partners
About the Domino sign
This South Baltimore sugar refinery has been in operation since 1922. Today, it is the second largest sugar refinery in the U.S.—workers process approximately 6.5 million pounds of raw cane sugar here each day. The red neon "Domino Sugars" sign has perched 160 feet above Baltimore's harbor since 1951. The sign measures 120 by 70 feet, with each letter ranging in height from 12 to 20 feet. The $2 million project to replace the neon with more energy-efficient LED lights began in March 2021 led by the Gable Company, based in Curtis Bay. The new LED sign will light up the skyline starting on July 4, 2021.
The original dot above the "i," measuring five feet tall, will be on display at the BMI starting this summer.
About the presenters
Peter O'Malley, VP of Corporate Relations at American Sugar Refining, Inc. (ASR Group)
Paul Gable, President and CEO of the Gable Company, and another Gable employee
Moderator: Tameika Hollis, member of the BMI Board of Trustees
The Baltimore Museum of Industry celebrates the dignity of work, and can provide a forum for exploring such issues as workers' rights and workplace equity, providing historical context for contemporary issues that impact our community.