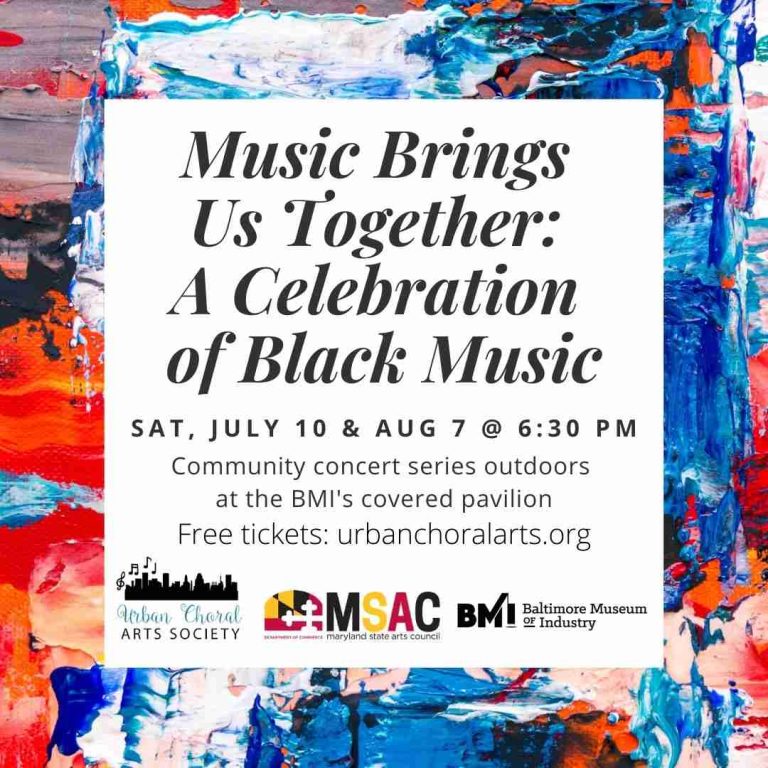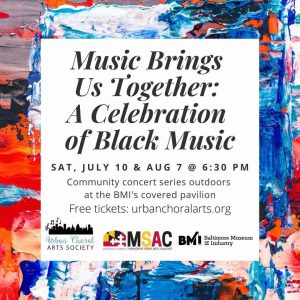 Urban Choral Arts Society Community Concert Series: Music Brings Us Together – A Celebration of Black Music
Saturday, July 10 and August 7, 6:30 – 8 pm
Join the Urban Choral Arts Society, Inc. (UCAS)–a nonprofit dedicated to improving the achievement and esteem of Baltimore area youth through choral music and cultural arts–for an outdoor, socially distanced performance highlighting the important contributions of African-Americans in the BMI's covered pavilion. Seating will be available but visitors are welcome to bring their own chairs/blankets. Restrooms are available inside the museum. Audiences can bring their own refreshments.
This series is supported in part by the Maryland State Arts Council (msac.org). Free, but advance registration is required at urbanchoralarts.org.
About the Performers
The Urban Choral Arts Society is a 501c3 nonprofit organization dedicated to improving the achievement and esteem of Baltimore youth through choral & cultural arts. Founded in 2015 by Ronald McFadden in partnership with the Eubie Blake Cultural Center, UCAS allows students to participate in mentoring, regular rehearsals, and performances with adult professional musicians. With a special emphasis on music within the African diaspora, UCAS also seeks to preserve and highlight the artistic contributions of African Americans to the world of music.
Broadening students' exposure through both traditional and contemporary choral arts practices, UCAS strives to be a leading educational presence and advocate for the arts serving urban youth in the Baltimore-Washington Metropolitan areas. Through quality programs of performing arts study and rigorous practice, UCAS addresses the artistic diversity of the population it serves and provides opportunities for youth at varying levels of prior training and experience.
The Baltimore Museum of Industry celebrates the dignity of work, and can provide a forum for exploring such issues as workers' rights and workplace equity, providing historical context for contemporary issues that impact our community.