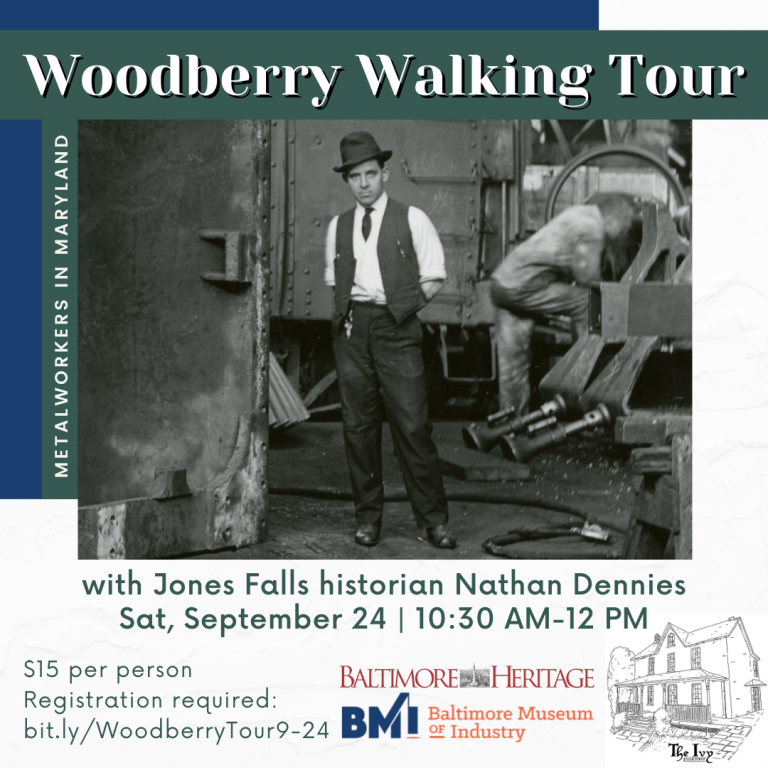 Woodberry Walking Tour
Saturday, September 24 | 10:30 AM-12 PM
Advanced registration required | $15 per person
Join the BMI, Baltimore Heritage, and the Ivy Bookshop for a walking tour of historic Woodberry, once home to the largest machine shop and iron works in the country, with Jones Falls historian Nathan Dennies.
Discover how the site of the Poole & Hunt Machine Shop and Iron Works has changed over its 150-year history and meet artisans working in the metal industry today. After the tour, participants are invited to gather at Pariah Brewing for a social hour where they have the opportunity to purchase "The Metalworkers: A History of Robert Poole and his Ironworks in 19th-Century America," by Steven C. Swett. This tour is part of the BMI's "Metalworkers in Maryland" program series, which seeks to explore the history of metal industries in Baltimore and beyond by focusing on the workers who powered it.
About our Partners and Presenter
About the Presenter
Nathan Dennies founded the Greater Hampden Heritage Alliance with friends who were interested in researching and telling the story of the industrial history of the Jones Falls. He is on the boards of the Friends of The Jones Falls, Baltimore City Historical Society, and the Greater Baltimore History Alliance. Nathan works at Johns Hopkins and in his spare time works as a consultant researching and writing historic signs.
About our Partners
Founded in 1960, Baltimore Heritage is Baltimore's nonprofit historic and architectural preservation organization. With a small staff, 33 volunteer board members, and a host of volunteers, we work to preserve and promote Baltimore's historic buildings and neighborhoods.
The Ivy Bookshop is Baltimore's independent literary bookstore. They specialize in new and classic fiction, non-fiction, history, biography, art, interior design, cooking and children's books. The Ivy is open daily at 5928 Falls Road in Mount Washington.