on July 23, 2020
Bethlehem Steel Legacy Project, Oral history, Stories, Updates
and Tags: 1960s, Bartee, Black worker, civil rights, Eddie Bartee, steelworker, union
with 0 comments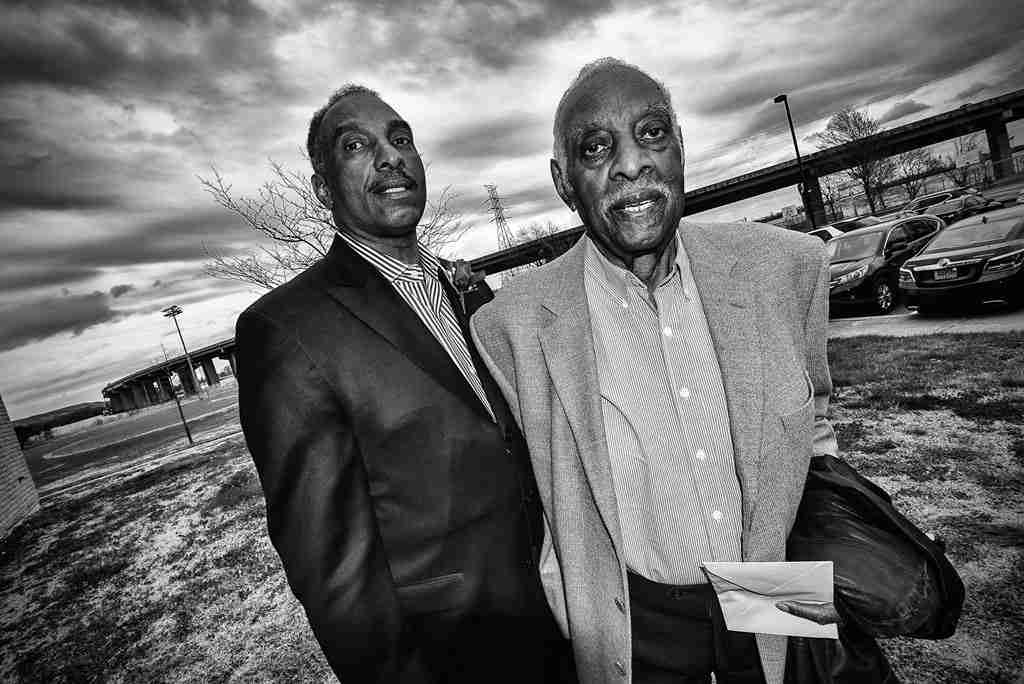 Eddie Bartee Jr. and Eddie Bartee Sr., photographed by J. M. Giordano. Three generations of Bartees worked at Sparrows Point and became union activists.
The Bethlehem Steel community lost a beloved figure when Eddie Bartee Sr. passed away in March at age 85. The son and nephew of steelworkers, he grew up in the company town of Sparrows Point and followed his father into the mill in 1955. The first African American president of Local 2609, he was a longtime leader in the union and civil rights movements, retiring from the mill in 1996 after a 41-year career as a steelworker.
He sat down for an interview with labor historian Bill Barry in 2002. In these edited excerpts,* he recalls some of the formative experiences as a black worker at Sparrows Point that led him into activism.
[When he was a kid] I thought it was a great place to work. During World War II my dad worked in there, and he was working seven days a week, 12 hours a day. He walked right to the mill. If he overslept, he would get up and go to work, my mother would fix his lunch, and I would take his lunch over to the police booth. I would give them my father's badge number. They would call down the mill, he would come up, I would give him his lunch. It was a good place to work. Again, blacks didn't make a lot of money. … My daddy really never complained about the discrimination portion of it.
… There were guys who would go hunting, bring the general foreman a rabbit back, go fishing, bring fishes back. If your wife was a good pie maker, you would take the general foreman a pie and stuff like that. He looked out for them in those days. Some of the general foremen and superintendents would send guys to their house to cut the grass, clean out the garage, do domestic jobs that had to be done.
In those days you go to the general foreman, "I've got a son," cousin, et cetera, and give him your name, they call you and tell you to go to the employment office, you've got the job. [His uncle, a union activist, helped him get his job after his father died.] I went to work in the same area where he worked at, and there was some of the people saying, "You are Ernest Bartee's son?" "Yes, I'm Ernest's son." This is the job he used to do. Then I started asking some questions about [his father's experience].
… When I was working [in the tin mill], it had like eight commodes [for black workers]. And the white bathroom, they must have had 15, 16 commodes. Sometimes you would have to go to the bathroom—you stop your job and you run to the bathroom. Well, periodically some of those commodes would be broke, stopped up or whatever, and you had to stand there. So [I decided] I'm going in the white bathroom. So I got a bunch of other guys to do the same thing. All of us was somewhat reluctant, but I thought, I'm bad—thought I was bad anyhow.
And one [white] guy, I will never forget it, he used to work with my father. At first he thought I was a nice boy, and when he saw me in the white bathroom a couple of times, he said, "What happened, what are you doing in here?" I said, "What difference does it make? A bathroom is a bathroom." And he said, "What happens if somebody catches you and they jack you up and hang you up to the ceiling?" I said, "You ain't got enough people in here to do that to me." I felt that good about myself.
But what I did, I immediately went to the assistant superintendent of the tin mill, a man named Bill Morgan, and I told him what had happened, and I told him why. At that time I was a crane hooker. I've got to keep these tables loaded for these women [the tin floppers]. Sometimes the commodes in the black bathroom are broke, and we have to stand and wait, I said. "Well, I don't have time to wait, I've got to keep my tables loaded," and I told him this guy had threatened to hang me up. He says, "I know it's hard, but if they put their hands on you, you don't do nothing, you come to me and let me fight your battle for you." Now wait a minute, hold it. If somebody is trying to hurt me, I'm going to try to hurt them back. I guess I was like 23, 24 years old.
But what they did, they fixed all the commodes the next day. And they kept them fixed so that that conflict wouldn't develop.
That was prior to the middle sixties when they first filed discrimination charges. There was a protest filed against the company with the EEOC saying that Bethlehem Steel discriminated, and they did, there was no question about it. All the black people, black community lived on two streets, I and J Street. They didn't have any black firemen, any black policemen. You had a handful, and I mean just a handful of black foremen. There was a lot of jobs that blacks weren't allowed to do.
… I started going to union meetings. I got active, and I joined a group called the "Statesmen." That was a group that was attempting to eliminate discrimination. Then we went from the Statesmen to Steelworkers and Shipyard Workers for Equality… They opened the door a little bit in 1964-65 for blacks to come into better paying jobs, but it wasn't a wholesale thing. They had tests and all that kind of stuff that you had to take. I worked with guys who were white who couldn't read the morning's paper. [One white assistant operator had to have someone else write his reports for him.] He didn't have an education. He was an assistant operator! But they were saying to me I had to have a high school diploma or a high school equivalency.
We started studying, a bunch of us, on our breaks. We had math books, spelling books and reading books and all that sort of stuff. Most of us had finished high school, but some of us was a little rusty.
I will never forget, I bid on a job and went over to take the test, and man, I'm prepared, you know, nervous. [After the foreman gave him a hard time] I said, "Well, I'm just as good as anybody you've got in here." So he put the test in front of me, and when he pulled this piece of paper out, it was about I guess six by eight and it had six problems on it. I will never forget that as long as I live. The fraction problem was so simple, I did it in my head. Most of the test I did in my head. I was scared because when I saw the test, I said it's got to be something more than this, because first I thought they were trying to trick me, because we knew they had situations where tests had been tampered with. [He passed the test and got a job in the tandem department.] That's where I retired from, the tandem line, making a decent living.
For the complete transcript—and more interviews with Sparrows Point steelworkers—go to Bill Barry's website, sparrowspointsteelworkers.com. You can purchase his book of oral histories, All We Do Is Talk Steel, online. You can find a clip from Bill's interview with Eddie Bartee Sr. here and his interview with the Mill Stories documentary project with UMBC here.
*This excerpt has been condensed and slightly rearranged for clarity.