In recognition of the uncertainties resulting from COVID-19, this year's Maryland Engineering Challenge competitions will be held virtually. Competition rules and project requirements are also being adjusted to enable and encourage safe participation for students.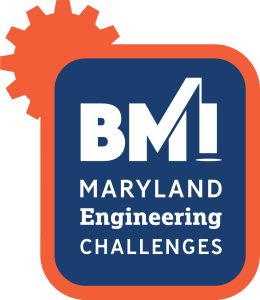 Check out our information sheet with suggestions on how to participate in a Challenge during a pandemic. Curious how to begin? Follow these steps!
The mission of the Maryland Engineering Challenges is to introduce students in grades 1 to 12 to the role of engineers in today's society and connect what students learn in school with real-world engineering concepts.
Participating in the Challenges helps students develop comprehension and problem-solving skills; encourages teamwork and self-confidence; and can promote meaningful mentor relationships with engineering professionals.
In addition to developing students' STEM skills (science, technology, engineering, and math), each Challenge also integrates reading, writing, and public speaking with hands-on, project-based learning.
Still have questions? Contact Education Manager Jessica Celmer and sign up for our emails.
Important Information
Each team must have an adult Coach register them online before written reports are handed in. Click here to register a team.
Each Coach must pay a $5 fee. One fee covers all teams with that Coach. Click here to pay your Coach's Fee online.
Please read Challenge Guides carefully, as rules or specs may change from year to year. Additional participation suggestions may be found in the Information Sheet at the top of the page.
Coaches' Information Session
This "drop-in" virtual event hosted on Zoom is designed for adults interested in coaching a team to chat with engineers. Find out if a particular Challenge is a good fit for your student(s). The Coaches' Information Session is not required and there is no cost. Attendance is strongly encouraged. Contact Jessica at jcelmer@thebmi.org
WHEN Wednesday, October 21, 2020 from 6:00–8:00PM
WHERE http://bit.ly/MECInformationSession
Robot Coaches' Hands-on Workshop
Learn the practical aspects of the Robot Challenge in this virtual workshop hosted on Zoom. Work with engineers to explore design and construction aspects of this project. Especially helpful for first-time Coaches and/or those with little engineering experience.Free; registration required: jcelmer@thebmi.org.
WHEN January 23, 2021 from 10:00 AM-2:00 PM
REGISTER HERE https://bit.ly/RobotWorkshop2Registration
Sponsored by:
BD Diagnostics | BGE-an Exelon Company | The Engineering Society of Baltimore | KELVIN | Northrop Grumman | W.R. Grace
Michael Hinkey and Kathryn Benson | The Propeller Club of Baltimore | NAVSEA at Carderock
Supported by:
Technology & Engineering Educators Association of Maryland
Additional STEM Opportunities & Resources:
Morgan State University Science-Mathematics-Engineering Fair
The Maryland Quality Initiative
National Academy of Engineering—EngineerGirl Program