on June 21, 2019
Updates
and Tags: Baltimore County, Beth Steel, Bethlehem Steel, BSLP, library, oral history, Sollers Point, steel, steel industry, story sharing, Turner Station
with 0 comments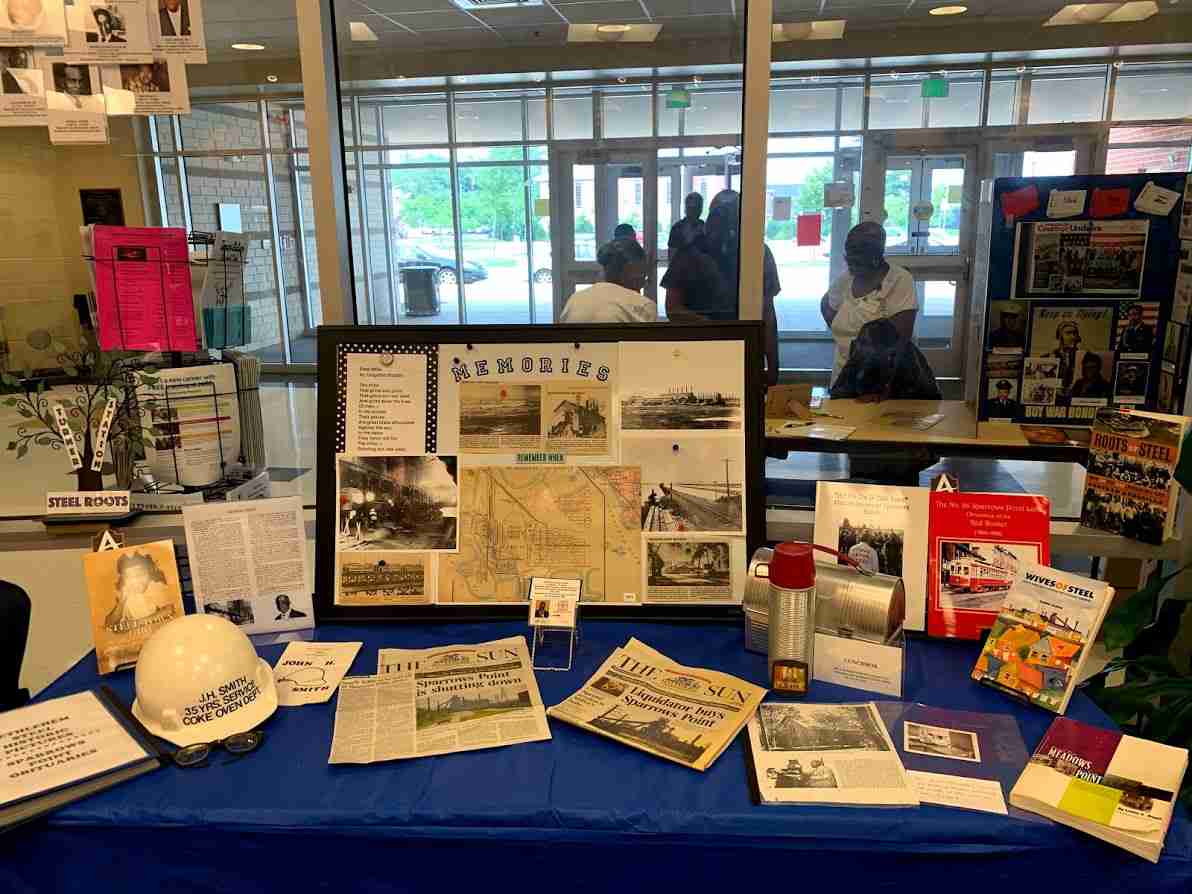 A special exhibition on Bethlehem Steel in the Turner Station History Center, curated by the Turner Station Conservation Teams
Mistrust. Pride. Cancer. Prosperity. Shock. Community. A series of striking contrasts emerged as themes throughout the BMI's "A Mill on the Patapsco" story sharing program at the Sollers Point branch of the Baltimore County Public Library on June 5, 2019. As part of the museum's commitment to community participation, we partnered with the library to host this program. The evening attracted a racially diverse group of about 25 men and women from the Dundalk area ranging in age from elementary school to senior citizens. Almost everyone in the room had some kind of personal connection to Bethlehem Steel.
I was struck by the enormous disparity between participants' fond memories of the company and their negative experiences, especially when it came to health problems caused by the steelmaking environment. I heard former employees and their family members describe benefits like 13 weeks of paid vacation–an unbelievable amount in 2019!–and how working at Bethlehem Steel enabled families to start their own businesses, buy homes, send their kids to college, and travel to visit relatives out-of-state. They also recalled the risks that accompanied the work–how living in the shadow of a steel mill led to untimely deaths due to industrial accidents, cancer, and lung disease. It could also be a terrifying force. For one man working at Sparrows Point, the heat from the blast furnace felt like a "preview of hell." We also discussed the uncomfortable realities of discrimination and segregation, which shaped everyday life in the community. I could sense the pride with which participants spoke of their contributions to American war efforts as well as the betrayal of the company's bankruptcy that still stings many area residents.
Other elements of the program provided more information about the history behind the famous steel mill. Volunteers from the Turner Station Conservation Teams opened the Turner Station History Center, located in the lobby of the county multipurpose center. This museum offers insights into the experience of African American workers at the mill as well as exhibits on neighborhood figures, community institutions, businesses, and housing. Senior museum educator (and Dundalk resident) Jack Burkert provided an overview of Bethlehem Steel's Sparrows Point Steel Mill through a thoroughly researched Powerpoint presentation. After touring the exhibits and hearing from Jack, participants broke into small groups to share their own stories about working in the steel industry and everyday life in Sparrows Point.
The museum staff chose this format so that individuals who possess a great deal of expertise on the this topic of Bethlehem Steel could connect with each other as well as share their insights with the museum. We are actively seeking public input into this project, to help shape both future programming (such as film screenings, author talks, workshops, etc.) and as well as the exhibition slated to go up in 2021. Hearing directly from these individuals helps museum staff like me—I did not grow up in the Baltimore area and don't have any personal connections to this topic—better understand what visitors already know about and are hungry to learn about when it comes to Bethlehem Steel. We also sent a follow-up survey to participants who shared their contact information, to ask their opinion on the program format.
If you couldn't make it on June 5 but would like to participate in a similar program, come to the North Point library on Saturday, August 10 or follow the BMI on social media to get updates about future programs. You can also share your Bethlehem Steel story using this form.
Big thanks to the BMI's partners who were essential to making this program happen: the Baltimore County Public Library, the Turner Station Conservation Teams, and The Peale Center for Baltimore History and Architecture.
Author Bio:
Auni Gelles is the museum's Community Programs Manager, overseeing the BMI's community outreach efforts, public programs (such as workshops, presentations, film screenings, author talks), and Farmers' Market. A Seattle native, she currently lives in Hampden with her husband, son, and dog.