Temporary Exhibitions
WHY WE WORK
This interactive exhibition is set in a gallery featuring contemporary and historic portraits of Baltimoreans in their workplaces, from taverns to funeral homes, and medical labs to machine shops. Using prompts, visitors respond to questions about issues related to work, creating a narrative about perceptions of contemporary labor.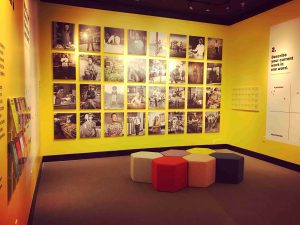 Students in the Program in Museums & Society at Johns Hopkins University created this exhibition together with student partners from the Maryland Institute College of Art, led by design professor Jeremy Hoffman from Ashton Design. Ashton Design was instrumental in developing the graphics and exhibition concepts that reflect the student's ideas and visions for the space. It features contemporary photography by Christopher Myers and historic portraits from the Library of Congress (FSA/OWI and National Child Labor Committee Collections), the Baltimore Museum of Industry BGE collection, and the photographs of A. Aubrey Bodine and others.
Made possible through a grant from the Andrew W. Mellon Foundation to the Johns Hopkins University in support of its Program in Museums & Society. Special thanks to Ashton Design.
This exhibition will be open through April 14, 2019.
Video Game Wizards–Transforming Science and Art into Games
This interactive exhibition allows visitors to immerse themselves in the exciting process of creating their very own video game.
Video Game Wizards provides an interactive environment where visitors can explore how their talents, skills and passions could lead to a career in the interactive entertainment industry. The exhibit's six stations provide an opportunity for visitors to meet game makers and learn about their roles, while making and customizing a game using the skills demonstrated at each station.
Visitors will experience the collaborative process of video game development at every point in the exhibition. At the end, visitors are able to play their own game and share it on the exhibition's website with family and friends, and will be able to play any of the games developed at the exhibition. Please visit www.videogamewizards.org to play your game and learn more about this fascinating industry. This exhibition will be open through 2019.
Video Game Wizards—Transforming Science and Art into Games was developed by the Baltimore Video Game Wizards, Luci Creative, Ravenswood Studio, Silver Oaks Communications, Cerebral Lounge/Clean Cuts Music, and the BMI. A start-up grant was provided by the Maryland Film Office/Maryland Department of Economic Development. Photos provided by Luci Creative.
The 20th-Century Woman at Work
The way we dress for work can offer clues about what we do for a living, where we are employed, and even our professional rank. In some cases, work clothes help tell a story about the nature of working life. Through the twentieth century, women's role in the workforce expanded dramatically thanks to a rising economy, two world wars, new technologies, and vast social change.
Clothing worn and made by Baltimore women mirrored the changing status of women in the workforce. Early on, women were expected to wear dresses regardless of the rigors of the job. During WWII, female factory workers began dressing like their male co-workers. Pants eventually gained acceptance socially and at work as fashion trends responded to women's needs. "Power suits" materialized in the 1980s as more women entered management. One thing didn't change: as women made strides at work, they needed clothes that helped them get the job done.
The garment loft window's display of women work uniforms is curated by museum volunteer Debbie Farthing and will be on view through January 2020.