Temporary Exhibitions
REINVENTION: The Work of Chris Bathgate
An exhibition by Baltimore-based artist Chris Bathgate of machined-metal objects.
Featuring 28 works of art, REINVENTION: The Work of Chris Bathgate explores how modern and traditional machine work can be harnessed to create unique artistic expressions.
Bathgate is a self-trained machinist. He utilizes handmade tools and automated CNC (computer numerical control) milling machines and metal lathes to create precisely-crafted elements that assemble into complex sculptures. He has spent more than fifteen years adapting metalworking machinery from salvaged and repurposed equipment. Bathgate's aesthetic considerations stem from the very machines that he uses to create his sculptures. Each piece that he makes is informed by the one it is preceded by, and he modifies his machinery accordingly—not for improved practical function but for the aesthetic developments that can be produced.​ REINVENTION also includes schematic drawings of his work done both digitally and through Diazo printing, an antiquated process used to create copies of architectural and technical drawings, commonly known as blueprints. Please click here to learn more about Chris and his work.
Learn more about Chris Bathgate's creative process and the intersections between art, industry, and engineering in this video from Comcast.
REINVENTION: The Work of Chris Bathgate is open through March 11, 2018 and was made possible with generous support from PNC, Direct Dimensions, Comcast, and Creative Print Group.
You can explore our interactive 3D animation of Chris Bathgate's sculptures, designed by Direct Dimensions, right here (on right). The interactive models are also available to use at the museum.
Video Game Wizards–Transforming Science and Art into Games
This interactive exhibition allows visitors to immerse themselves in the exciting process of creating their very own video game.
Video Game Wizards provides an interactive environment where visitors can explore how their talents, skills and passions could lead to a career in the interactive entertainment industry. The exhibit's six stations provide an opportunity for visitors to meet game makers and learn about their roles, while making and customizing a game using the skills demonstrated at each station.
Visitors will experience the collaborative process of video game development at every point in the exhibition. At the end, visitors are able to play their own game and share it on the exhibition's website with family and friends, and will be able to play any of the games developed at the exhibition. Please visit www.videogamewizards.org to play your game and learn more about this fascinating industry. This exhibition will be open through 2019.
Video Game Wizards—Transforming Science and Art into Games was developed by the Baltimore Video Game Wizards, Luci Creative, Ravenswood Studio, Silver Oaks Communications, Cerebral Lounge/Clean Cuts Music, and the BMI. A start-up grant was provided by the Maryland Film Office/Maryland Department of Economic Development. Photos provided by Luci Creative.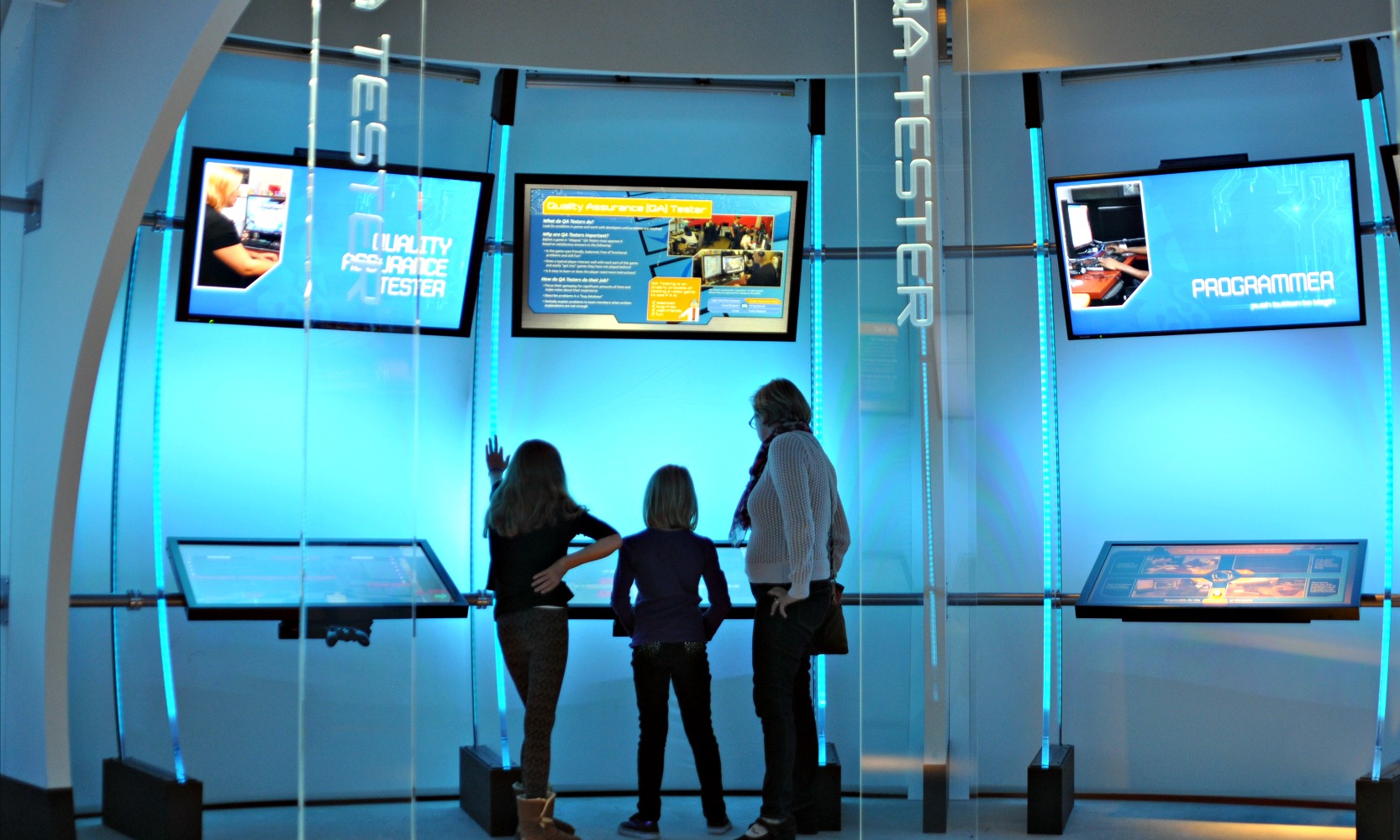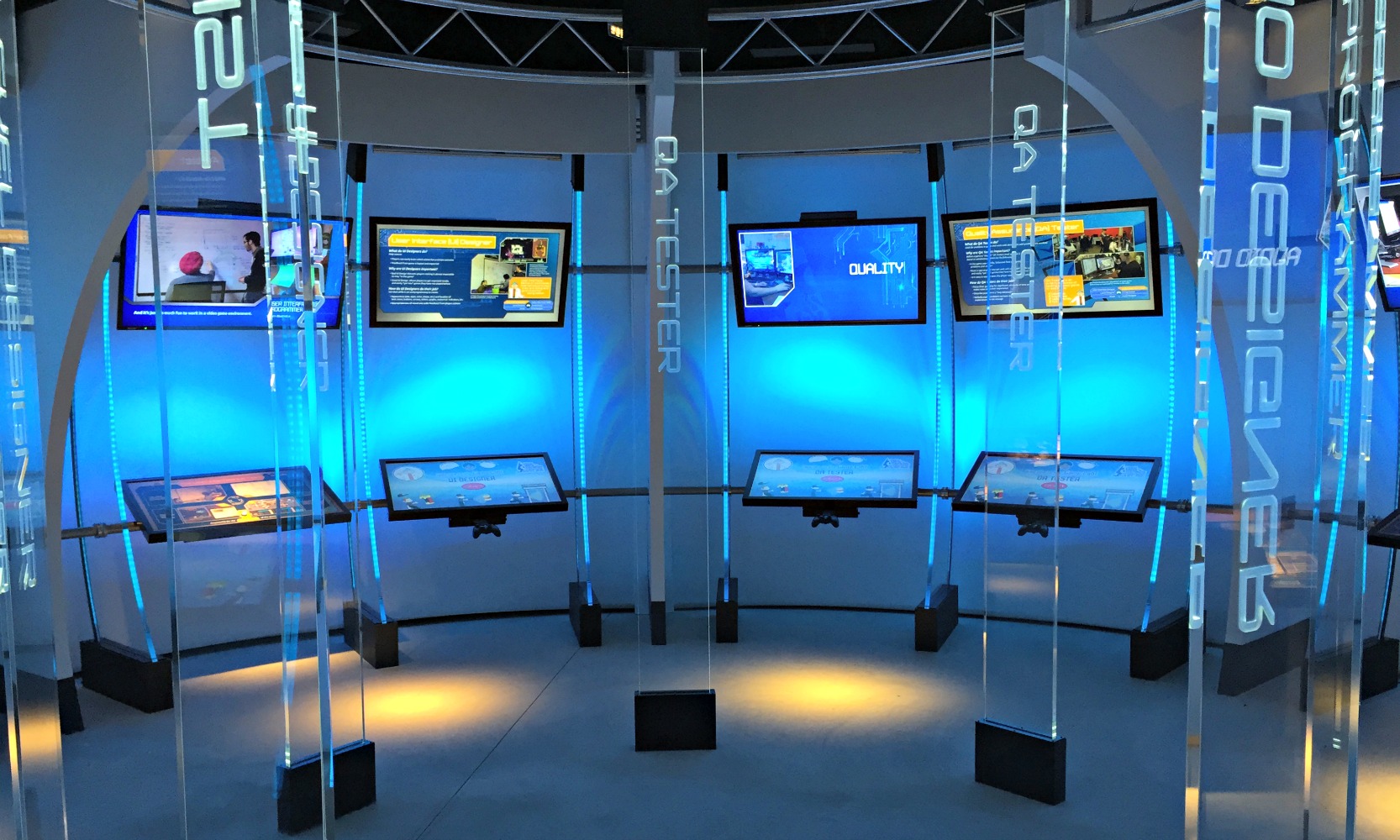 Dressed for Work
The way we dress for work can offer clues about what we do for a living, where we are employed and even our professional rank. In some cases, work clothes help tell a story about the nature of working life. Uniforms are a perfect example of the impact of function on design.
In the 1700s, when new nations and governments were forming, public service employees began to wear uniforms in order to identify themselves to citizens. By the early 1900s, uniforms were an important feature in many corporate workplaces. These work clothes might include logos or color schemes identifying a particular company. Today, the design of modern uniforms helps communicate a preferred corporate identity— like cleanliness, reliability, or any number of traits with which a company hopes to be associated. Besides promoting corporate brands, most modern work uniforms take functionality and safety into consideration.
The garment loft window's display of work uniforms is curated by museum volunteer Debbie Farthing and will be on view through May 2018.