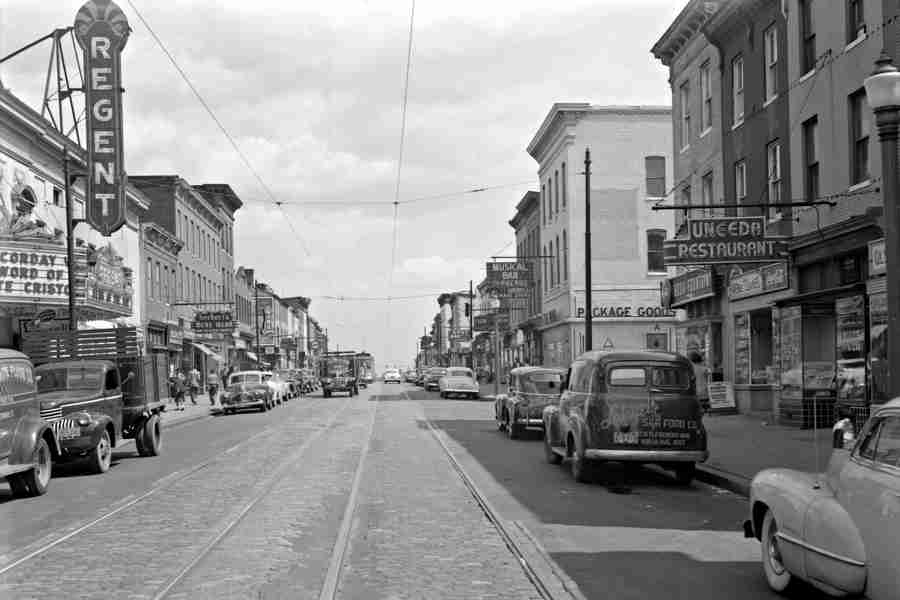 323201A The Regent Theatre, 1629-19 Pennsylvania Ave. at Pitcher Street, May 9, 1951. Neighborhood: Upton
Designed by Baltimore architects Sparklin and Childs, The Regent was the largest theatre on The Avenue. It was opened June 9, 1916, by Louis Hornstein and his two sons on the site of a former coal yard and billed as "The largest, coolest, best ventilated house in the city." Though predominantly a movie theatre, The Regent also hosted live performances by such notable entertainers Ethel Waters, Lena Horne, Sidney Poitier, Cab Calloway, Eubie Blake, and Jack Johnson.
(Take photo from the west side of the street, looking south on Pennsylvania Ave.)
How to Enter the Baltimore Then & Now BGE Photo Contest
Help us bring these photos to life! Submit your picture of the old Regent Theatre location on Instagram and you might be selected as a winner in our Baltimore Then and Now BGE Photo Contest! The specific location of the old Regent Theatre is on the map to the right. To enter, post your picture on Instagram using the following hashtags:
#BMIBGEThenAndNow
#BMIBGERegentTheatre
Not on Instagram? Submit your photo by using this form. Be sure to submit your picture by November 30, 2015.