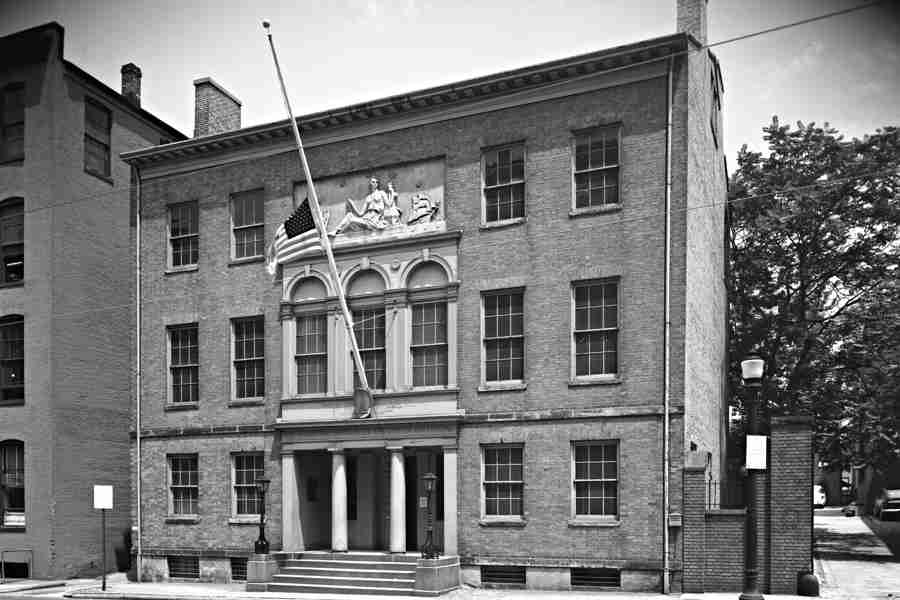 BGE-38845 – The Peale Museum, 225 North Holliday Street, June 14, 1963.
Originally known as "Peale's Baltimore Museum and Gallery of Fine Arts" when it opened in 1814, the Peale Museum building has had a number of tenants through the years. The first, as the name suggests, was the museum belonging to Charles Willson Peale—until 1830, it displayed portraits of famous Americans (many painted by the owner's son, Rembrandt Peale) alongside the skeleton of a prehistoric mastodon and other objects of natural history. Following the sale of the museum, the building then housed Baltimore's first city hall, a distinction it held until 1875 when the current city hall was completed. Over the next half-century, the building served as the Number 1 Colored Primary School and was leased out to numerous private businesses before being rededicated as the Municipal Museum of Baltimore in 1931.
(Take photo across Holliday St., looking east.)
How to Enter the Baltimore Then & Now BGE Photo Contest
Help us bring these photos to life! Submit your picture of the Peale Museum location on Instagram and you might be selected as a winner in our Baltimore Then and Now BGE Photo Contest! The specific location of the Peale Museum is on the map to the right. To enter, post your picture on Instagram using the following hashtags:
#BMIBGEThenAndNow
#BMIBGEPealeMuseum
Not on Instagram? Submit your photo by using this form. Be sure to submit your picture by November 30, 2015.