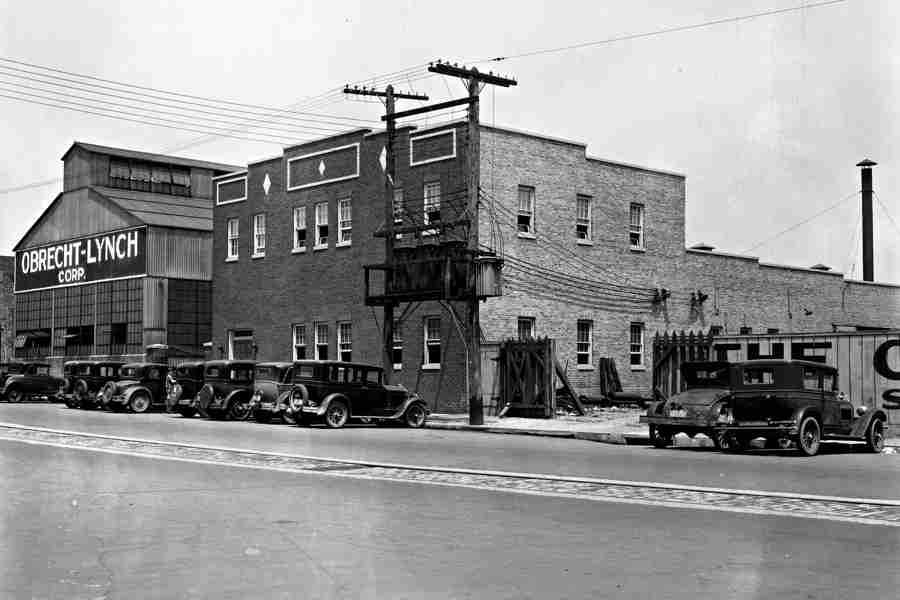 BGE-405.B – Obrecht-Lynch, 900 E. Key Highway, ca. 1930.
Originally located on Light Street along the Inner Harbor, the Obrecht-Lynch Corporation was founded in 1924 by Charles B. "Buck" Lynch to repair paddle wheelers. Five years later, Lynch—who had learned about ship repair while serving as superintendent of a repair yard belonging to Charles F. Obrecht—moved the company to Key Highway, which in the early twentieth century was lined with shipyards. After briefly losing and repurchasing the property in the Great Depression, Obrecht-Lynch found success repairing Liberty and Victory ships during and after World War II.
(Take photo from across the street where Key Highway divides.)
How to Enter the Baltimore Then & Now BGE Photo Contest
Help us bring these photos to life! Submit your picture of the Obrecht-Lynch Corporation location on Instagram and you might be selected as a winner in our Baltimore Then and Now BGE Photo Contest! The specific location of the Obrecht-Lynch Corporation is on the map to the right. To enter, post your picture on Instagram using the following hashtags:
#BMIBGEThenAndNow
#BMIBGEObrechtLynchCorporation
Not on Instagram? Submit your photo by using this form. Be sure to submit your picture by November 30, 2015.