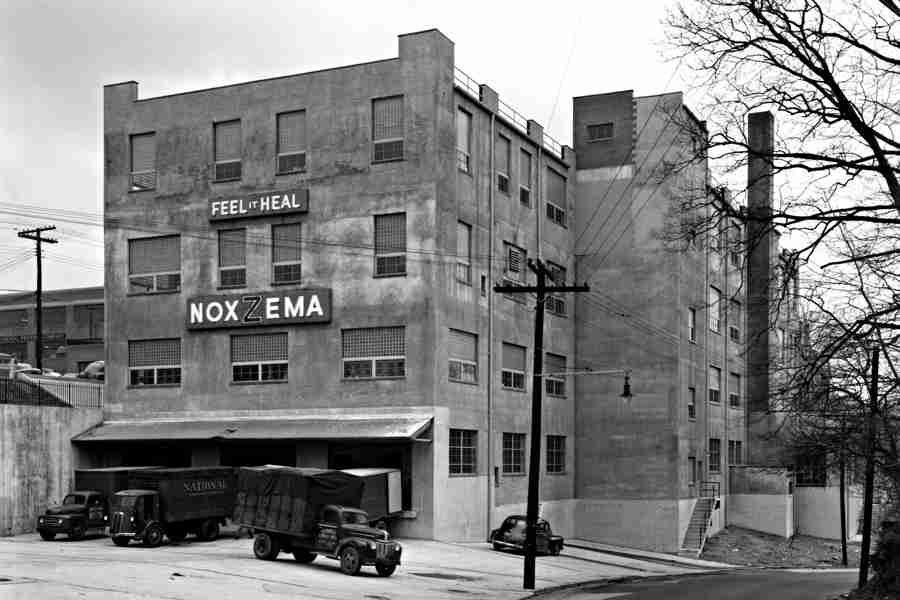 BGE-Noxzema/Noxell Corporation014 – Noxzema Chemical Company, Falls Cliff Road and 32nd/33rd streets, March 1951.
Founded in 1917 by pharmacist Dr. George A. Bunting, the Baltimore-based Noxzema Chemical Company produced two of America's most recognizable brands: Noxzema skin cream and Cover Girl make-up. The so-called "Miracle Cream of Baltimore" was originally hand-mixed, poured, and shipped from a rowhouse on East Lafayette Street, but shrewd marketing efforts—including packaging the cream in a now iconic cobalt blue bottle and advertising in national magazines— quickly outstripped the company's production capacity. To meet this demand, Noxzema moved into a new reinforced concrete factory at the corner of Roland Avenue and Falls Road in 1926, where it would remain headquartered until relocating to Cockeysville in 1966.
(Take photo from the stop sign across the street from the building at Roland Ave. and Falls Rd.)
How to Enter the Baltimore Then & Now BGE Photo Contest
Help us bring these photos to life! Submit your picture of the Noxzema Chemical Company location on Instagram and you might be selected as a winner in our Baltimore Then and Now BGE Photo Contest! The specific location of the Noxzema Chemical Company is on the map to the right. To enter, post your picture on Instagram using the following hashtags:
#BMIBGEThenAndNow
#BMIBGENoxzemaChemicalCompany
Not on Instagram? Submit your photo by using this form. Be sure to submit your picture by November 30, 2015.