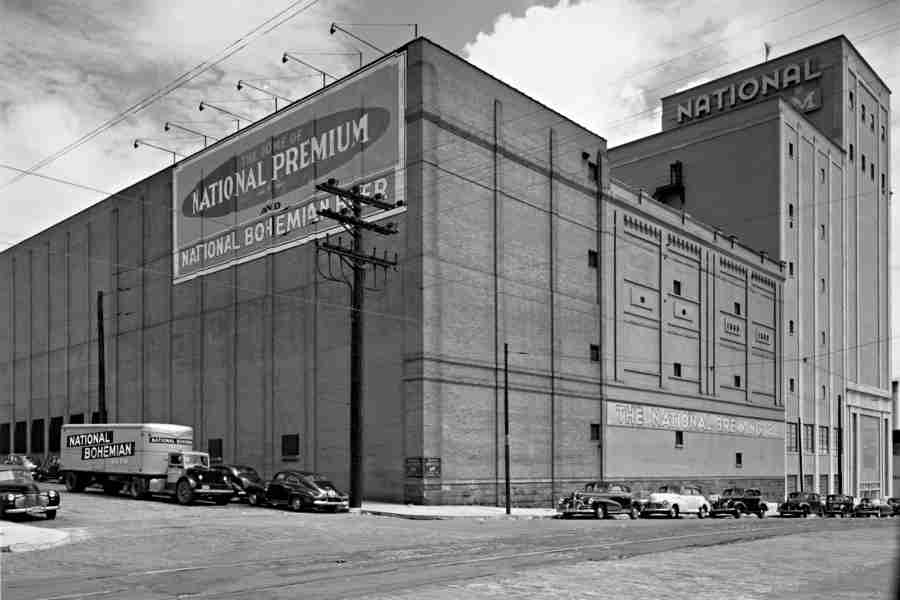 BGE-20897 – National Brewing Company, Conkling at O'Donnell Street, June 1949.
In a city known for beer and breweries, perhaps none is as well-known as the National Brewing Company. Founded in 1872 at the intersection of Conkling and O'Donnell Streets in the aptly named Brewer's Hill neighborhood, National built its reputation on two brands of beer: National Premium and National Bohemian. Following a thirteen-year Prohibition-induced shutdown, the brewery was acquired by Samuel Hoffberger, who modernized operations and expanded the company's marketing activities. Sales increased dramatically in the 1940s with National's introduction of a new innovation—the six-pack of canned beer—and again in the 1950s when it became an official sponsor of the revived Baltimore Orioles major league baseball team.
(Take photo from the northwest corner of Conkling St. and Dillon St., looking southeast.)
How to Enter the Baltimore Then & Now BGE Photo Contest
Help us bring these photos to life! Submit your picture of the Natty Boh Building location on Instagram and you might be selected as a winner in our Baltimore Then and Now BGE Photo Contest! The specific location of the Natty Boh Building is on the map to the right. To enter, post your picture on Instagram using the following hashtags:
#BMIBGEThenAndNow
#BMIBGENationalBrewingCompany
Not on Instagram? Submit your photo by using this form. Be sure to submit your picture by November 30, 2015.