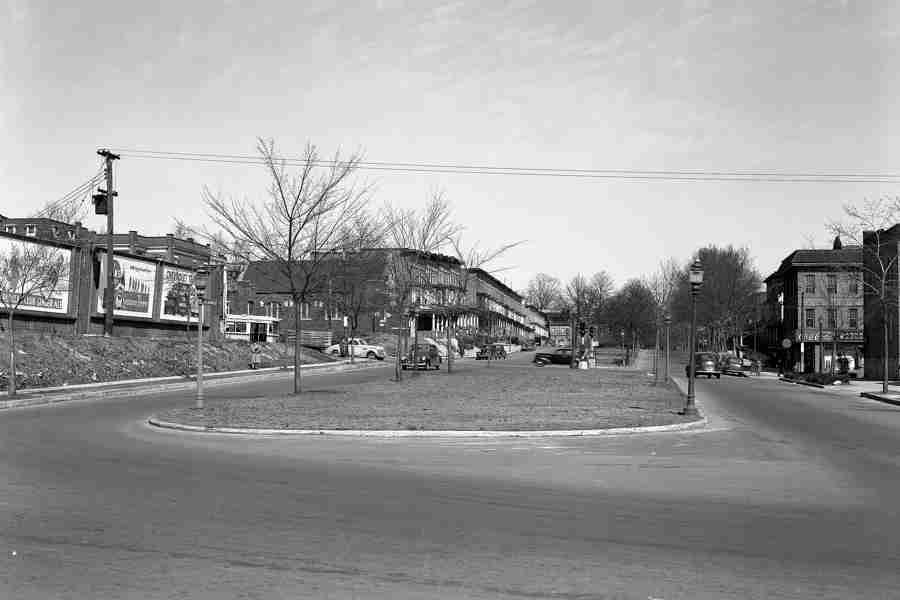 BGE-16217 – Monroe Street looking west down Gwynn Falls Parkway, 1945.
Once the site of a spectacular Greek Revival mansion owned by physician and Baltimore City councilman Patrick Macaulay (1795-1849), the Mondawmin neighborhood supposedly traces its name back to Henry Wadsworth Longfellow. Asked by Dr. Macaulay what he should call his 73- acre country estate, the renowned poet was said to have suggested "Mondamin," a Native American corn god mentioned in "The Song of Hiawatha." Regardless of the origins of its name, by the 1940s Mondawmin had traded corn fields and manor houses for colleges and brick row homes, with many African American families drawn to the neighborhood by the historically- black Coppin Teachers College.
(Take photo from the median in the middle of Gwynn Falls at Monroe St., looking west down Gwynn Falls.)
How to Enter the Baltimore Then & Now BGE Photo Contest
Help us bring these photos to life! Submit your picture of the Mondawmin location on Instagram and you might be selected as a winner in our Baltimore Then and Now BGE Photo Contest! The specific location of Mondawmin is on the map to the right. To enter, post your picture on Instagram using the following hashtags:
#BMIBGEThenAndNow
#BMIBGEMondawmin
Not on Instagram? Submit your photo by using this form. Be sure to submit your picture by November 30, 2015.