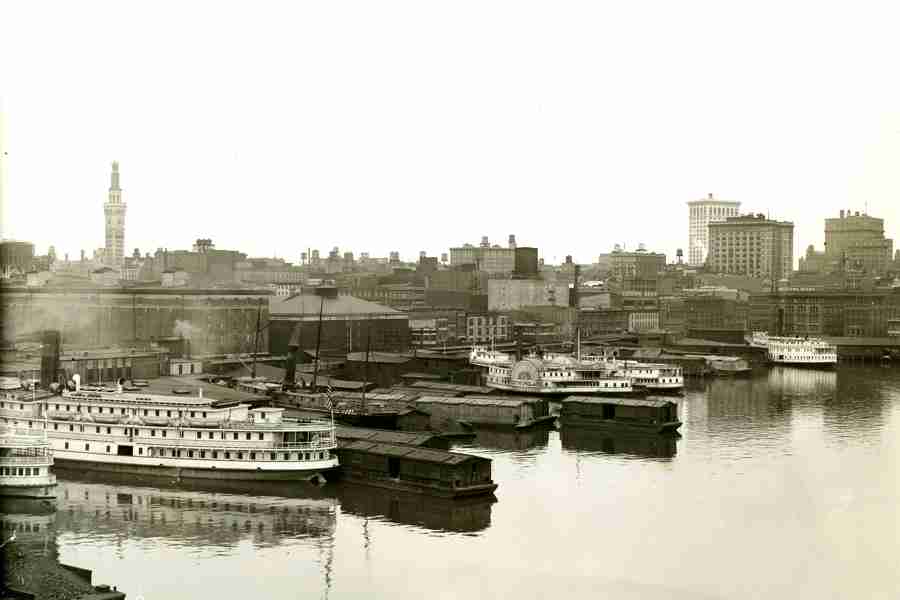 BGE-35A – Ships docked at the Harbor along the Light Street Wharf, ca. 1916-1917.
Although Baltimore has been known as a major seaport since at least the eighteenth century, the Inner Harbor played a surprisingly small role in the growth of the city's maritime power. With its relatively shallow waters and confined spaces, the Inner Harbor was unsuitable for larger ships and heavy industry, both of which found Fells Point, Canton, and Locust Point to be more accessible. In spite of these disadvantages, the so-called "Cheapside Wharf" along Light and Pratt streets remained crowded with wooden docks and warehouses well into the 1950s.
(Take photo from the water's edge, near the Science Center.)
How to Enter the Baltimore Then & Now BGE Photo Contest
Help us bring these photos to life! Submit your picture of the Light Street Wharf location on Instagram and you might be selected as a winner in our Baltimore Then and Now BGE Photo Contest! The specific location of Light Street Wharf is on the map to the right. To enter, post your picture on Instagram using the following hashtags:
#BMIBGEThenAndNow
#BMIBGELightStreetWharf
Not on Instagram? Submit your photo by using this form. Be sure to submit your picture by November 30, 2015.