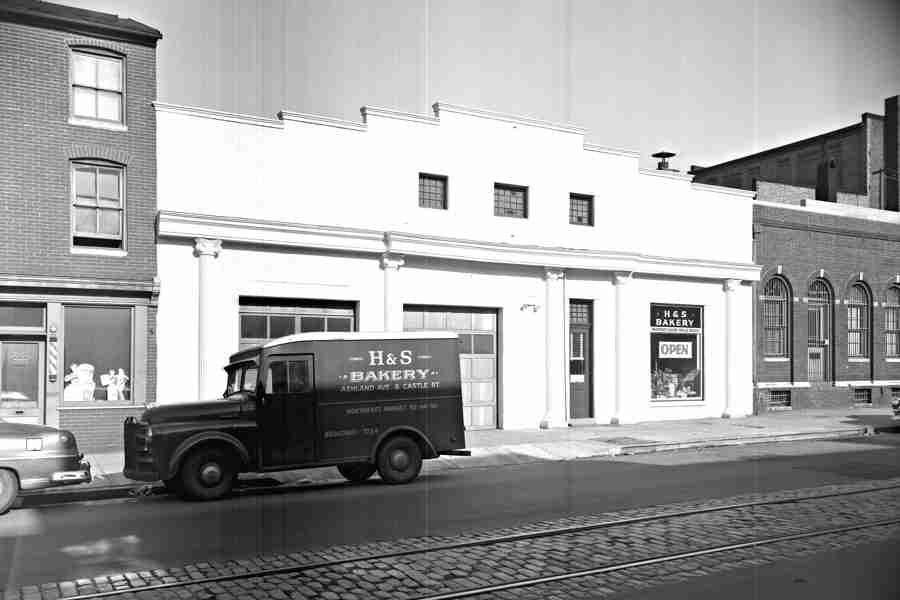 H&S Bakery, 1628 Fleet Street, December 10, 1953.
Founded in 1943 by Harry Tsakalos and Isidore "Steve" Paterakis, H&S Bakery supplied some of Baltimore's most well-known restaurants and supermarkets, including Harley's sandwich shops, Food Fair, and Acme. During the bakery's early years, Paterakis baked hand-formed Italian loaves in an old brick flat-hearth oven while Tsakalos drove the company's sole truck and served as deliveryman.
(Take photo from the south side of Fleet St. between Broadway and Bond St., looking north.)
How to Enter the Baltimore Then & Now BGE Photo Contest
Help us bring these photos to life! Submit your picture of the H&S Bakery location on Instagram and you might be selected as a winner in our Baltimore Then and Now BGE Photo Contest! The specific location of H&S Bakery is on the map to the right. To enter, post your picture on Instagram using the following hashtags:
#BMIBGEThenAndNow
#BMIBGEHAndSBakery
Not on Instagram? Submit your photo by using this form. Be sure to submit your picture by November 30, 2015.