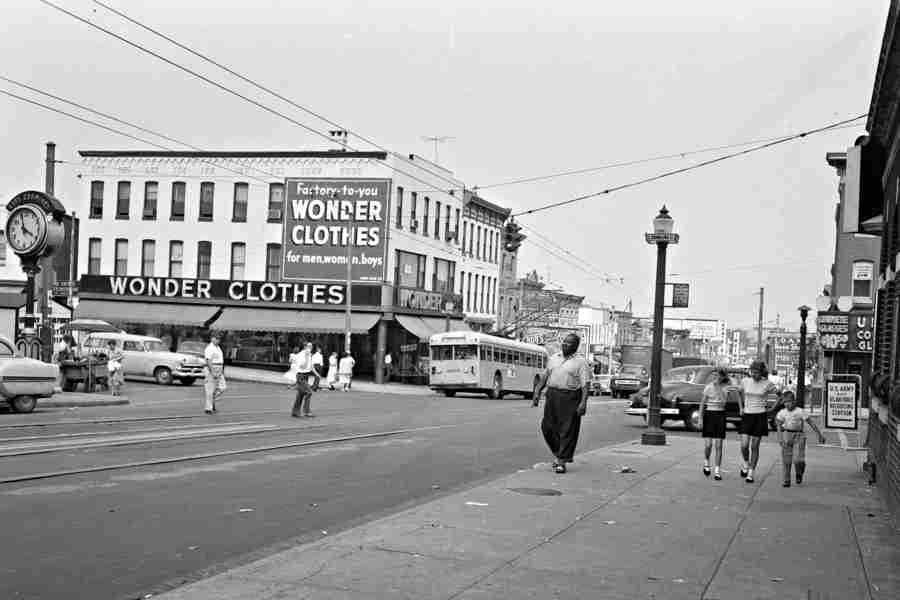 BGE-28385B – Wonder Clothes, Eastern Avenue and Conkling Street, 1954.
Like Howard Street to the west, Eastern Avenue was a major commercial and industrial thoroughfare for the Highlandtown neighborhood in East Baltimore. Using the city's electric streetcar lines, shoppers could easily access Epstein's discount department store as well as dozens of other local retail establishments that lined the avenue on its way to the county.
(Take photo on the southwest corner on Eastern Ave. and Conkling St., looking east.)
How to Enter the Baltimore Then & Now BGE Photo Contest
Help us bring these photos to life! Submit your picture of the Hightlandtown location on Instagram and you might be selected as a winner in our Baltimore Then and Now BGE Photo Contest! The specific location of Highlandtown is on the map to the right. To enter, post your picture on Instagram using the following hashtags:
#BMIBGEThenAndNow
#BMIBGEHighlandtown
Not on Instagram? Submit your photo by using this form. Be sure to submit your picture by November 30, 2015.