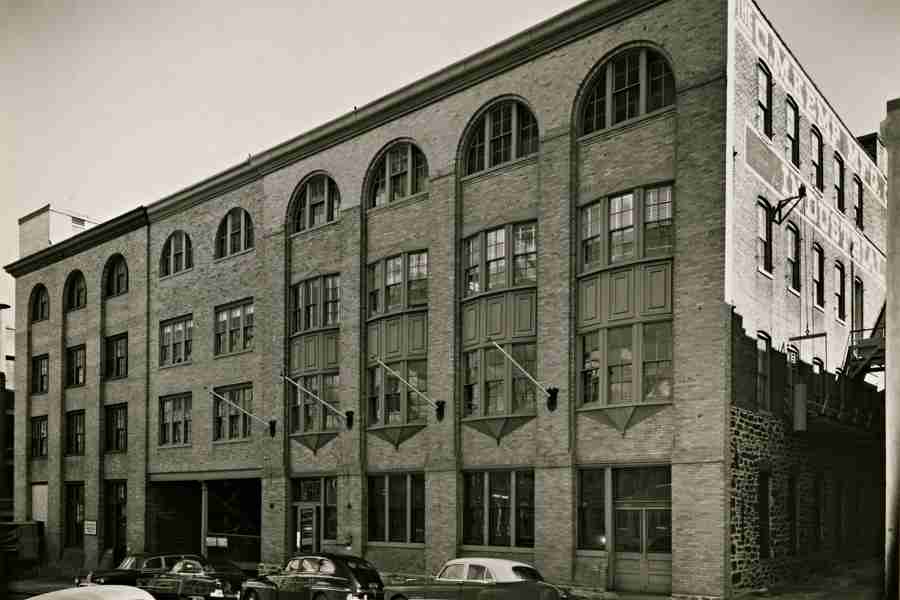 BGE-304.E – C.M. Kemp Manufacturing Company, 405 East Oliver Street, February 1953.
Like many buildings across Baltimore, the impressive brick structure at 405 Oliver Street in Greenmount has been home to variety of businesses through the years. The site's origins go back to 1848 when German immigrant Frederick Ludwig established the Albion Brewery on what was then known as Belvedere Avenue. In 1904, production shifted from beer to industrial equipment when the C.M. Kemp Manufacturing Company purchased the site and built a new four-story addition on top of the existing brewery. For nearly half a century, Kemp used the expanded factory to manufacture compressed air dryers, soft-metal furnaces, and gas-generating equipment before turning the over to furniture and upholstery producer Tom-Len in the 1950s. The building's final phase of industrial production began in 1970 when it was purchased by the Crown Shade Company, which manufactured window shades and venetian blinds on site for nearly two decades.
(Take photo from the northeast corner of Barclay St. at Oliver St., looking south.)
How to Enter the Baltimore Then & Now BGE Photo Contest
Help us bring these photos to life! Submit your picture of the C.M. Kemp Company location on Instagram and you might be selected as a winner in our Baltimore Then and Now BGE Photo Contest! The specific location of the old C.M. Kemp Company is on the map to the right. To enter, post your picture on Instagram using the following hashtags:
#BMIBGEThenAndNow
#BMIBGECMKempCompany
Not on Instagram? Submit your photo by using this form. Be sure to submit your picture by November 30, 2015.