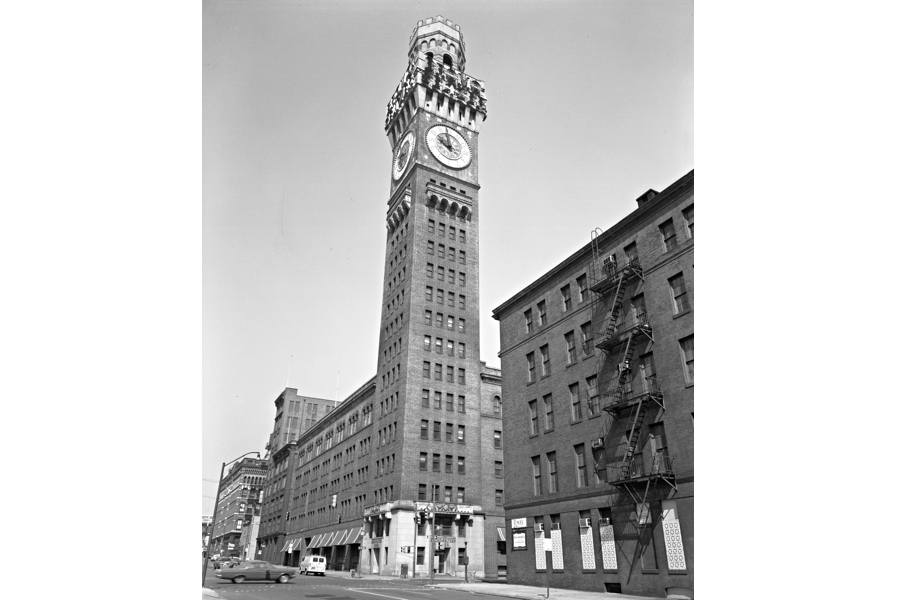 BGE-44883 – Bromo Seltzer Tower on Eutaw Street looking north at the Lombard Street intersection, March 1, 1969.
When it was built in 1911, the 15-story Emerson Tower—better known locally as the Bromo Seltzer Tower—was the tallest building in Baltimore. The tower was inspired by the Palazzo Vecchio in Florence, Italy, and took its name from Capt. Isaac Edward Emerson, the inventor of Bromo-Seltzer, a popular cure for headaches and indigestion. Until 1936, the tower was topped by a 51-foot illuminated Bromo-Seltzer bottle that was supposedly visible from twenty miles away.
(Take photo on the west side of Eutaw St., just south of Lombard St.)
How to Enter the Baltimore Then & Now BGE Photo Contest
Help us bring these photos to life! Submit your picture of the Bromo Seltzer Tower location on Instagram and you might be selected as a winner in our Baltimore Then and Now BGE Photo Contest! The specific location of the Bromo Seltzer Tower is on the map to the right. To enter, post your picture on Instagram using the following hashtags:
#BMIBGEThenAndNow
#BMIBGEBromoSeltzerTower
Not on Instagram? Submit your photo by using this form. Be sure to submit your picture by November 30, 2015.