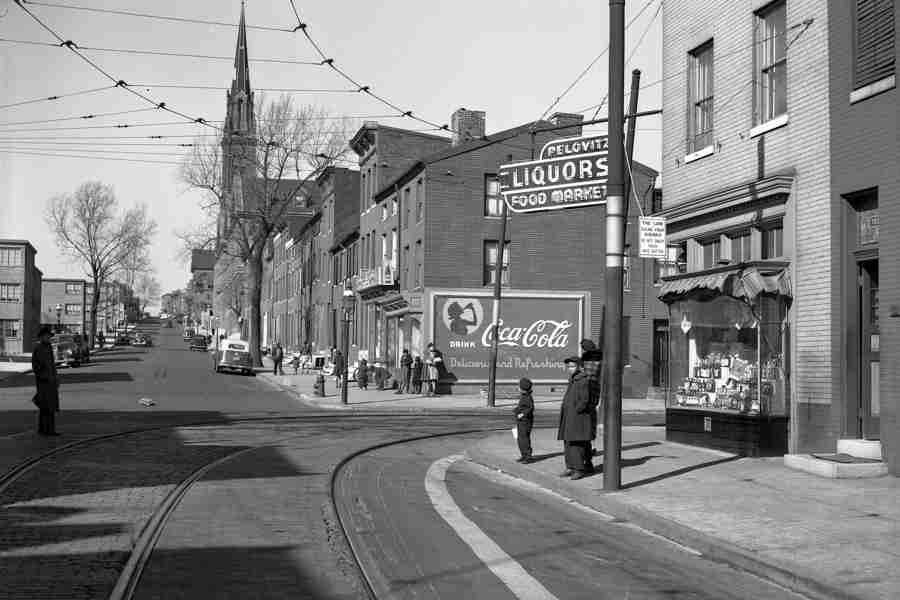 BGE-15006 – Aisquith at Ashland looking north, March 10, 1942.
Located northeast of Baltimore's downtown business district, the Old Town neighborhood reflected shifting racial, ethnic, religious, and class boundaries of Baltimore in the mid-twentieth century. Among the earliest residents was the Institute of Notre Dame, an all-girls Catholic school founded by the School Sisters of Notre Dame in 1847. Throughout the 1800s, Old Town also hosted large numbers of German, Irish, Italian, Polish, Russian, and Lithuanian immigrants, many of whom in the later years were Jewish. In 1941, the neighborhood became the site of Baltimore's fourth public housing complex, the Latrobe Homes. Built as a whites-only complex, Latrobe may have been an effort to stem the flow of African Americans into Old Town; however, as the fruits of civil rights struggle combined with suburban flight, the neighborhood soon shifted from white to black during the 1950s and 1960s.
(Take photo from the southwest side of Aisquith St., looking north at Ashland Ave.)
How to Enter the Baltimore Then & Now BGE Photo Contest
Help us bring these photos to life! Submit your picture of the Ashland at Aisquith location on Instagram and you might be selected as a winner in our Baltimore Then and Now BGE Photo Contest! The specific location of Ashland at Aisquith on the map to the right. To enter, post your picture on Instagram using the following hashtags:
#BMIBGEThenAndNow
#BMIBGEAshlandAtAisquith
Not on Instagram? Submit your photo by using this form. Be sure to submit your picture by November 30, 2015.