Experience the BMI with a Virtual Field Trip.
Questions? Please email tours@thebmi.org or call 410-727-4808 ext. 117
Choose from an exciting selection of educational activities that are grade specific and content oriented toward selected learning outcomes.
The BMI is excited to offer new educational opportunities for those groups that cannot visit the museum. Our Industry Investigators and Jr. Industry Investigators virtual field trips connect your students live with a BMI educator at the museum.
For teachers or parents looking to supplement social studies learning or our Virtual Field Trips, check out our Youtube Student Playlist as a resource.

Download the BMI Programs Brochure

History Alive Virtual Tour
Students experience Baltimore's industrial past with a live, virtual guided tour of the BMI exhibits. Learn about the themes of immigration, changing technology, skilled and unskilled work, and segregated labor with a deep dive into the canning, printing, and garment industries. Participants learn about jobs and work that is important to Baltimore's history as an industrial city. Museum educators will engage participants in discussions and demonstrations of the museum's working machines.
Includes printable activity packet

Grade: 3rd-8th
Cost: $125.00/session — Up to 30 participants/session
Length: 1 hour/session
Supplies needed: device with internet access, microphone, and camera; printer; crayons, markers, or other coloring supplies; writing utensils
It was a great opportunity for the students. The students were engaged and the presenters were great at asking and taking questions from the students throughout the experience.Teacher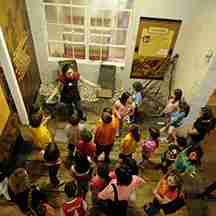 In the Neighborhood Virtual Tour
Young audiences experience an early 20th century neighborhood and learn about different jobs in Baltimore's past and present. Participants investigate the places of work that built Baltimore through interactive lessons and a printable activity kit. Sessions may include a trip to a grocery store, bakery, print shop, clothing factory, and pharmacy.
Includes printable activity packet

Grade: Pre-K-2nd
Cost: $125.00/session — Up to 30 participants/session
Length: 1 hour/session
Supplies needed: device with internet access, microphone, and camera; printer; crayons, markers, or other coloring supplies; writing utensils; scissors; glue, tape, or a stapler
Our virtual field trip was excellent! Brandon was very knowledgeable and kept the students engaged. I can't think of anything that would have made our experience any better! Thank you so much for offering this to our students!Teacher
Reservation Form