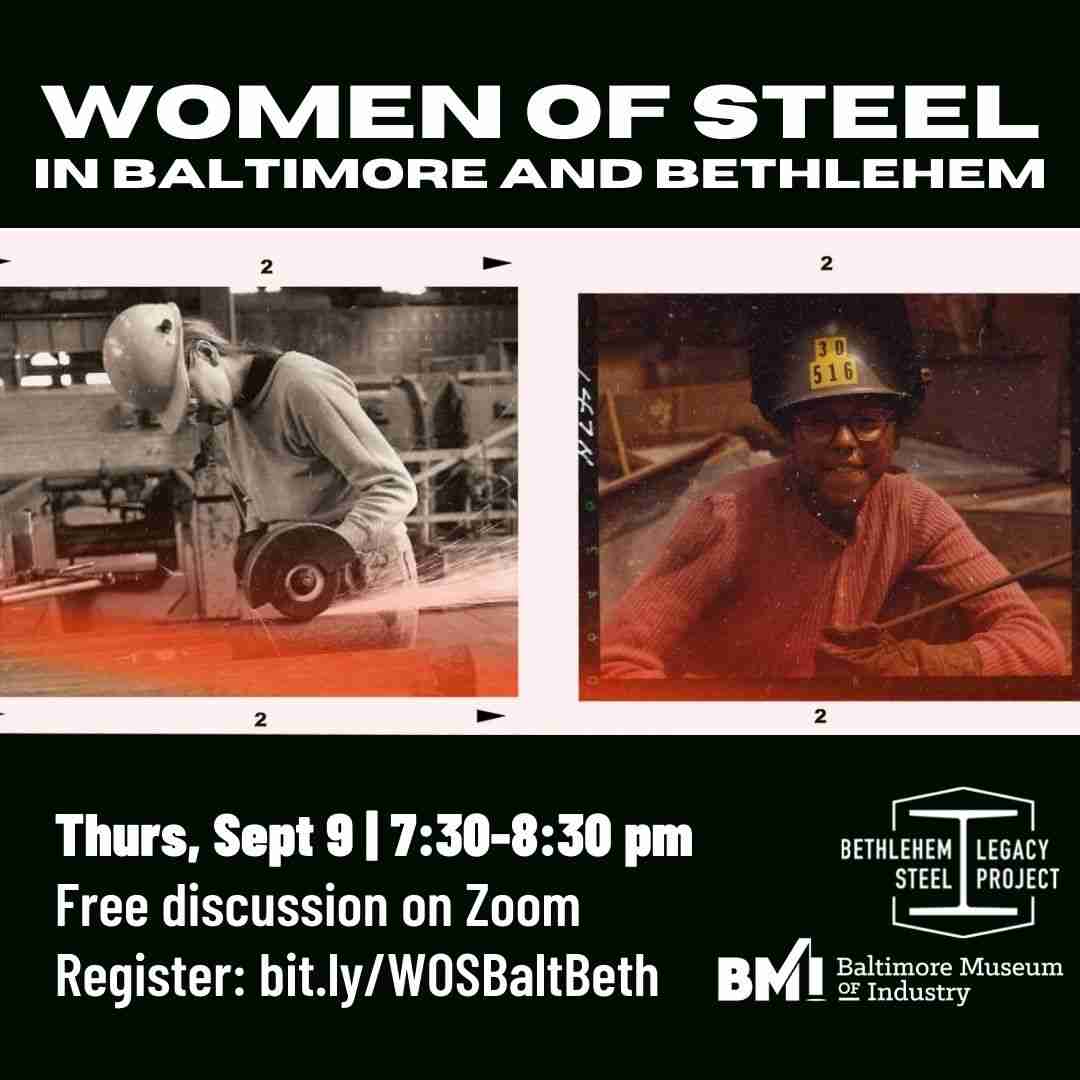 Women of Steel in Baltimore and Bethlehem
Hear from women who worked at Bethlehem Steel mills at Sparrows Point and Bethlehem, PA about the challenges, opportunities, and surprises they experienced as steelworkers, as well as ongoing efforts to preserve these stories for future generations. This Zoom webinar will be recorded.
This program took place on Thursday, September 9, at 7:30 PM. A recording of the program is now available on the BMI's Youtube channel. You can watch it here
About the Partners
About the Moderator
Jill Schennum is the Chair of Anthropology, Sociology, Economics at the County College of Morris (CCM) in Randolph, New Jersey, who researches economic disparities resulting from the loss of union jobs. Her forthcoming book examines the effect that Bethlehem Steel's bankruptcy has had on steelworkers' lives.
Beyond Steel: An Archive of Lehigh Valley Industry and Culture
The Women of Bethlehem Steel collection represents the stories of women who worked at Bethlehem Steel Corporation from the mid-20th century through the sale and closure of the company in 2003. These oral histories convey a variety of experiences from women who worked on the shop floor, company executives, to women with strong family ties to the industry. The narrators describe their work, how they balanced their occupation with their home life, how they were treated by their male co-workers, and the effects of Bethlehem Steel's decline. In addition to audio and video recordings, this collection houses a variety of photos of women at work and portraits of former employees. This project is a collaboration between Lehigh University and the Steelworkers' Archives and is made possible by a grant from Lehigh University's Mellon Digital Humanities Initiative and support from Lehigh University's South Side Initiative.
The Baltimore Museum of Industry celebrates the dignity of work, and can provide a forum for exploring such issues as workers' rights and workplace equity, providing historical context for contemporary issues that impact our community.