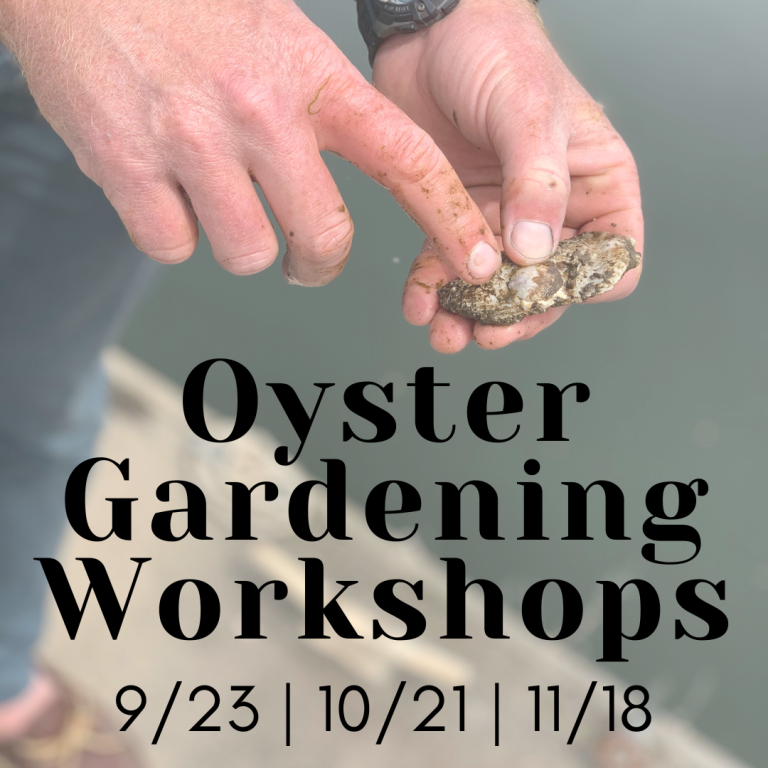 Oyster cage cleaning workshops take place on Saturday mornings each month from Sept-Nov and Mar-June, weather permitting. Ages 16+ are welcome.
Join the Great Baltimore Oyster Partnership, a collaboration between the Waterfront Partnership of Baltimore and the Chesapeake Bay Foundation (CBF). In this program, baby oysters are grown in oyster gardens along Baltimore's Inner Harbor, including the BMI's waterfront campus. At the end of the growing season (September-May), the matured oysters are taken by boat to Fort Carroll, a protected oyster sanctuary in the Patapsco River, where they live out the rest of their lives.
Baltimore residents are invited to help maintain these oyster gardens and become community scientists and oyster advocates who speak to others about the pollution challenges facing the Baltimore Harbor and the role that oysters play in improving water health.
Register for upcoming oyster cage cleaning workshops on the BMI's campus here.
Saturday, Sept 23 | 10:00 AM-12:00 PM
Saturday, Oct 21 | 10:00 AM-12:00 PM
Saturday, Nov 18 | 10:00 AM-12:00 PM
Questions? Contact chelsea@waterfrontpartnership.org for more information.
Why grow oysters in the Harbor?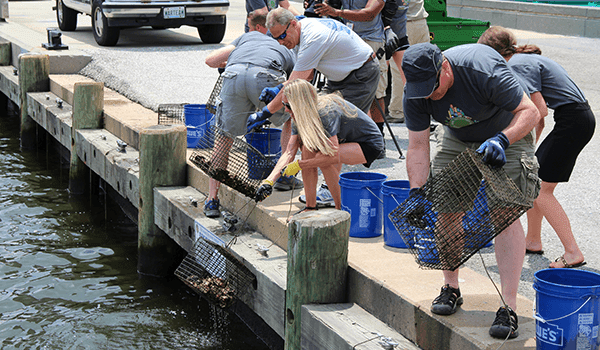 From the Waterfront Partnership: The oysters we grow are for restoration purposes only and not for eating. We grow oysters because of their amazing ability to filter pollution out of the water and because of the critical habitat they provide. A full-grown oyster can filter up to 50 gallons of water every day. Two hundred years ago there were enough oysters to filter all of the water in the Chesapeake Bay in less than a week. Today it takes the remaining oysters over a year to filter the same amount of water.
Save Oyster Shells
The BMI's 19th century building was once an oyster cannery, welcoming skipjacks with oysters to be shucked and canned. With historic ties to these famous bivalves from the bay, the museum location makes it a natural site for a new shell recycling station for the Chesapeake Bay Foundation (CBF). Located in the BMI parking lot, this shell station helps Baltimore residents and museum visitors learn more about the benefits of shell recycling and provide an accessible space to do so. In the CBF Save Oyster Shells recycling program, shells that would typically be thrown away are saved and used in a variety of oyster restoration projects.
Once the recycled shells are cleaned and cured, CBF places them in large water tanks containing millions of microscopic oyster larvae, which then attach to the shells. On average, each recycled shell can become home to dozens of those baby oysters, called spat. CBF provides the spat-on-shell to its oyster gardeners and plants them in rivers and the Bay to grow and expand oyster reefs.
The next time you host a dinner using fresh oysters, drop off the rinsed shells at the new recycling center on the museum's campus to help CBF's oyster recovery and bay preservation efforts.
The Baltimore Museum of Industry celebrates the dignity of work, and can provide a forum for exploring such issues as workers' rights and workplace equity, providing historical context for contemporary issues that impact our community.