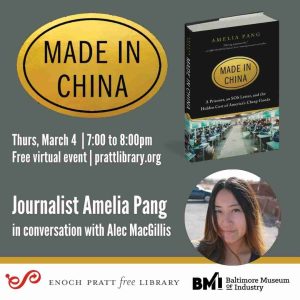 "Made in China" Virtual Author Talk
Thursday, March 4, 2021 @ 7 pm Facebook Live
Join the Baltimore Museum of Industry and the Enoch Pratt Free Library for a virtual author talk. MADE IN CHINA: A Prisoner, an SOS Letter, and the Hidden Cost of America's Cheap Goods, is journalist Amelia Pang's thorough exploration of the closely guarded secret of a network of Chinese forced labor—laogai—and the often hidden, tortuous human cost of the cheap consumer goods exported to America and Europe, and sold by companies including Apple, H&M, Kmart, and Walmart.
This event is free, no registration required. Access this program via the Enoch Pratt or Facebook Live
The Baltimore Museum of Industry celebrates the dignity of work, and can provide a forum for exploring people's experiences on the job. The BMI's programs and activities highlight such issues as workers' rights and workplace equity, providing historical context for contemporary issues that impact our community.