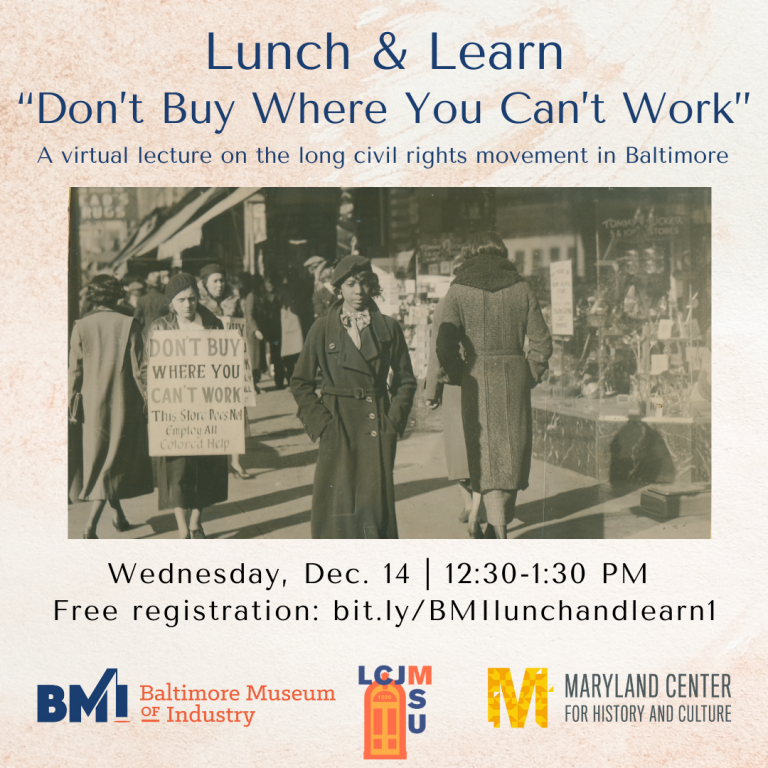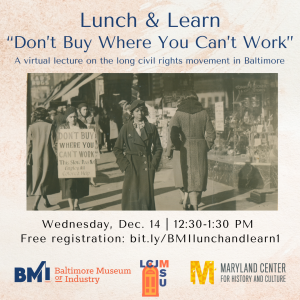 Don't Buy Where You Can't Work
Wednesday, December 14, 12:30 PM – 1:30 PM
A virtual lecture on the "Don't Buy Where You Can't Work" campaign of the 1930s presented by Rachel Donaldson, Curator of Collections and Exhibitions at the BMI, in partnership with the Lillie Carroll Jackson Civil Rights Museum. Staff from the Maryland Center for History and Culture will share related resources in their collections. This presentation will be recorded and posted on the BMI's YouTube channel.
Free to all audiences. Donations encouraged. Register here
About this Series and the Presenter
About this Series
The BMI's new Lunch & Learn series provides an opportunity to hear about significant artifacts, collections, and moments in Baltimore's industrial history from experts at the BMI and other cultural institutions.
About the Presenter
Dr. Rachel Donaldson is the Curator of Collections and Exhibitions at the Baltimore Museum of Industry. In this role, she oversees the museum's exhibitions program and helps preserve the museum's vast collections. She most recently served as an Associate Professor of History at the College of Charleston. With a Master's in Historic Preservation from the University of Maryland, and a Master's and PhD in History from Vanderbilt University, Rachel's work as an academic historian and historic preservationist focuses on interpreting and preserving sites of labor history.
The Baltimore Museum of Industry celebrates the dignity of work, and can provide a forum for exploring such issues as workers' rights and workplace equity, providing historical context for contemporary issues that impact our community.