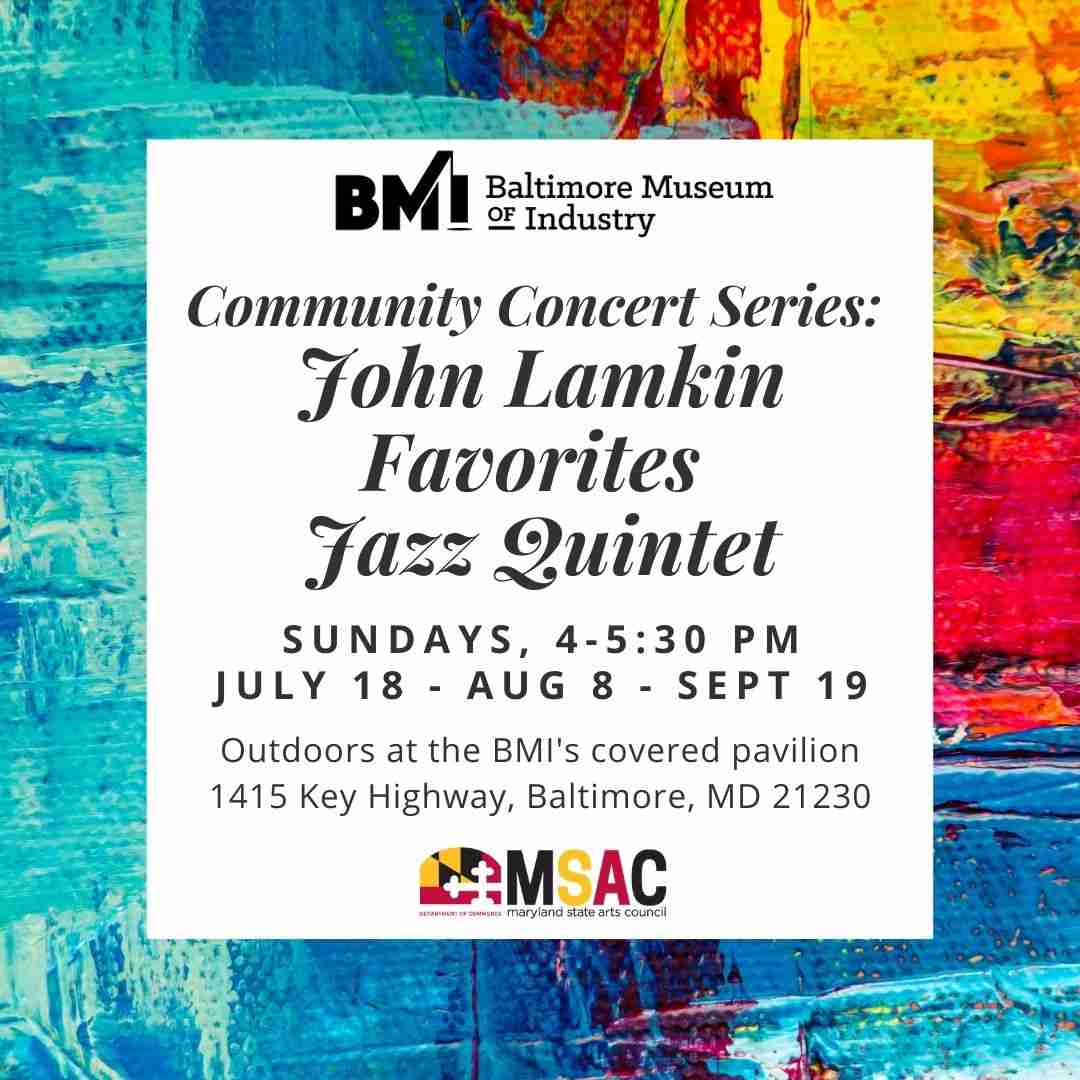 Community Concert Series: John Lamkin Favorites Jazz Quintet
Sunday, July 18, 4-5:30 pm
Sunday, August 8, 4-5:30 pm
Sunday, September 19, 4-5:30 pm

Join the John Lamkin Favorites Jazz Quintet for three outdoor, family-friendly, COVID-safe jazz performances in the BMI's covered pavilion this summer. This series is supported in part by the Maryland State Arts Council (msac.org). Free, no registration required.
Some seating will be available but visitors are welcome to bring their own chairs/blankets. Restrooms are available inside the museum. Audiences can bring their own refreshments.
About the John Lamkin Favorites Jazz Quintet
Enamored by the 1950s, 60s and 70s jazz quintets led by At Blakey, Horace Silver, Miles Davis and many others, John Lamkin II's quintet specializes in presenting a repertoire of straight ahead jazz standards and originals. The name "Favorites" refers to the jazz music that he prefers to all others, as well as the many local musicians whom he selects to perform in his band due to their exceptional musical artistry and depths of friendship.
Trumpeter Dr. John Lamkin II received his PhD in Music Education from the University of Maryland College Park. During his 30-year tenure at the University of Maryland Eastern Shore, he served as the Music Coordinator and the Coordinator of Music Education and developed the UMES Wind Ensemble, the UMES Jazz Ensemble and the UMES Pep Band. Dr. Lamkin received the 2014 Jazz Heroes Award from the Jazz Journalist Association for having a significant impact on jazz music in the Baltimore community.
The ensemble includes:
John R Lamkin II – Trumpet and Flugelhorn
Bob Butta – Piano
Jesse Moody – Bass
Blake Miester – Bass (August)
Michael Graham – Bass (July)
Michael Hairston – Saxophones (July, September)
Craig Alston – Saxophones (August)
The Baltimore Museum of Industry celebrates the dignity of work, and can provide a forum for exploring such issues as workers' rights and workplace equity, providing historical context for contemporary issues that impact our community.