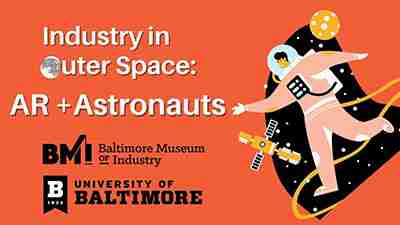 Industry in Outer Space: AR + Astronauts
Saturday, April 24 @ 2 pm
STEM students and space enthusiasts of all ages learn about one of Baltimore's farthest-reaching industries–space exploration–through a presentation from University of Baltimore students who are creating an augmented reality project to assist astronauts as part of the 2021 #NASASUITS design challenge.
This program took place on Saturday, April 24, 2021 on YouTube Premiere.
Watch the recording on YouTube.
About this partnership
This program was a partnership with the Applied Information Technology program within the Division of Science, Information Arts and Technologies at The University of Baltimore (UB).
UB's "AstroBees" are participating in NASA's Spacesuit User Interface Technologies for Students (SUITS) Design Challenge. This activity provides students with a real-word design experience supporting the Artemis mission to land American astronauts safely on the Moon by 2024. The AstroBees intend to design an augmented reality that assists the astronauts with carrying out tasks such as taking field notes/observations, photos, and taking samples/collections of various substances. Join them at this virtual event to learn more about augmented reality and how this cutting-edge technology may support future workplaces.
The Baltimore Museum of Industry celebrates the dignity of work, and can provide a forum for exploring such issues as workers' rights and workplace equity, providing historical context for contemporary issues that impact our community.