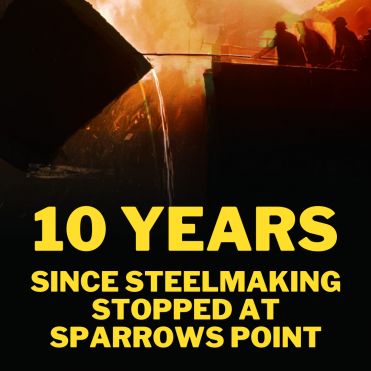 Sunday, June 5 | 12:00-2:30 PM
Included with museum admission
Mark ten years since the last steel was made at Sparrows Point with a tour of "Shuttered" with photographer J. M. Giordano at 12 PM, a tour of "Fire & Shadow" with curator Deb Weiner at 1 PM, and the dedication ceremony of the Bethlehem Steel Legacy Garden at 2 PM.
About the Bethlehem Steel Legacy Project
The Bethlehem Steel Legacy Project (BSLP) preserves the 125-year history of the steelmaking giant in Baltimore. At its height, its Sparrows Point mill was the largest steel producer in the world. The project honors the experiences of the men and women who worked at Bethlehem Steel, preserves the material record of steelmaking in Baltimore, and documents the mill's dramatic rise and devastating fall. In addition to visiting "Fire & Shadow: The Rise and Fall of Bethlehem Steel", you're invited to explore steel stories through the limited-edition podcast series "Sparrows Point: an American Steel Story," the "From Point to Point" blog, the Beth Steel Legacy Community Collection, and recordings of past programs accessible on YouTube.
The Baltimore Museum of Industry celebrates the dignity of work, and can provide a forum for exploring such issues as workers' rights and workplace equity, providing historical context for contemporary issues that impact our community.