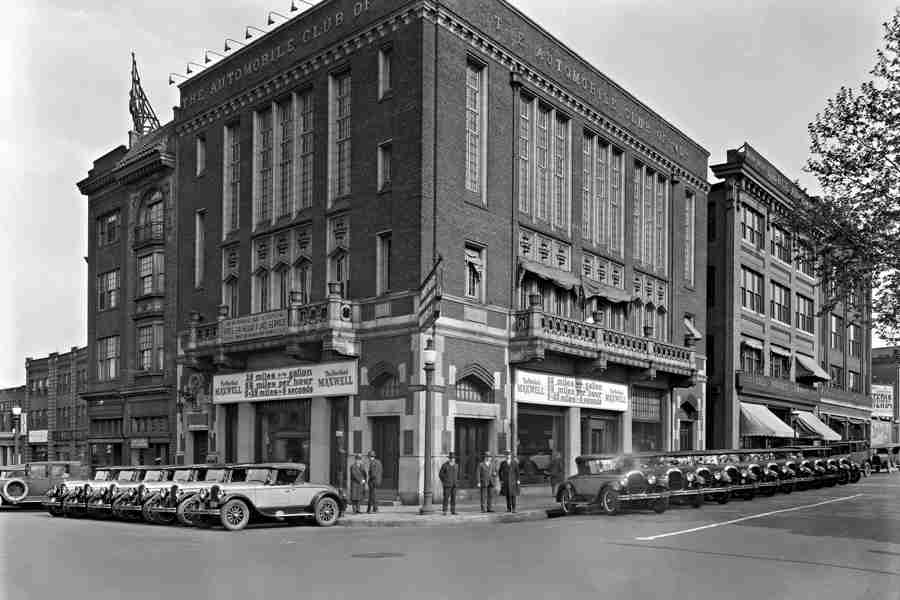 BGE-26962N – Fidelity Motors, Mt. Royal Street at Cathedral, May 1925.
Beginning in the 1910s, Mt. Royal Avenue and the streets that intersected it were teeming with automobile dealerships. Though such brands as Babcock, Hudson, and Nash have long since disappeared, the avenue's dealers also sold vehicles with more familiar names, including Ford, Chevrolet, Pontiac, and Chrysler. As Baltimore's demand for cars grew in the 1920s and 1930s, "Automobile Row" eventually moved beyond Mt. Royal and spread out along North Avenue.
(Take photo on the west side of Cathedral St. at Mt. Royal Ave., at the driveway to the Station Building.)
How to Enter the Baltimore Then & Now BGE Photo Contest
Help us bring these photos to life! Submit your picture of the Fidelity Motors location on Instagram and you might be selected as a winner in our Baltimore Then and Now BGE Photo Contest! The specific location of Fidelity Motors is on the map to the right. To enter, post your picture on Instagram using the following hashtags:
#BMIBGEThenAndNow
#BMIBGEFidelityMotors
Not on Instagram? Submit your photo by using this form. Be sure to submit your picture by November 30, 2015.