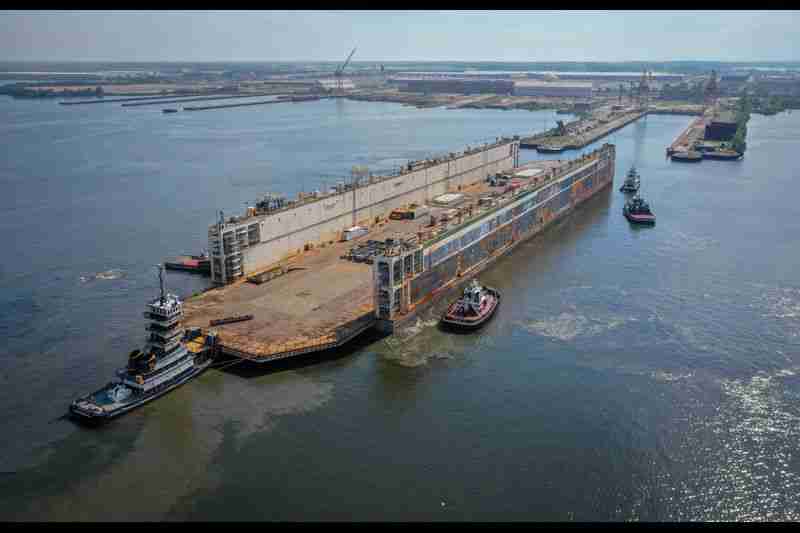 The Titan entering the Sparrows Point dry dock
By Ken Jones
In a previous post I shared the story of the Sparrows Point Shipyard. One of the significant features of the yard was the large 1,200' x 200' flexible building basin (dry dock) that went into operation in 1971. At the time of its construction it was one of the largest dry docks in the United States. It could accommodate a vessel up to 300,000 deadweight tons (dwt) such as the 1,000' long, 265,000 dwt super tankers built at the yard. When the intermediate gate was used it could accommodate multiple smaller ships simultaneously.
The closing of the shipyard nearly 20 years ago has left the basin, for the most part, unused. Now we learn from the dry dock's new owner, Tradepoint Atlantic, that the floating dry dock Titan has arrived at the Sparrows Point dry dock from its homeport in Norfolk, Virginia for repairs and preservation. Although the Titan is massive at 950' long and 160' wide and is the largest floating drydock on the east coast it will fit comfortably into the Sparrows Point dry dock. The Titan floating dry dock arrived on June 4th for the five-month project that is expected to require 90 workers.
This is not the first time that a floating drydock used to maintain the US Navy fleet in Norfolk was repaired at Sparrows Point. In 1991 Bethlehem Steel was awarded a competitive bid contract from the US Navy to overhaul the USS Sustain, a 552' x 124' multi-section, medium duty auxiliary floating dry dock. That contract included steel repair and replacement, piping renewal and tank blasting and coating.
Editor's Note
We are grateful to Tradepoint Atlantic for their generous support of the Bethlehem Steel Legacy Project and their commitment to honoring the men and women who worked at Bethlehem Steel.
The BMI's Bethlehem Steel ship plans collection includes material from five shipyards in the Greater Port of Baltimore and represents the experiences of thousands of Baltimore workers from 1896 to 1985. After five years of deep processing, we are excited and proud to announce that over 25,000 ship plans are now available for research. Discover Baltimore's immense shipbuilding achievement and help us uncover a world of largely unexplored material and scholarship: liberty ships, victory ships, cargo ships, military and naval vessels, coast guard cutters, lifeboats, tugboats, barges, dredges, tankers, and private vessels are represented. Navigate the collection by contacting archives@thebmi.org.
Author Bio
Ken Jones is a retired marketing communications executive now volunteering in our collections and archives department.