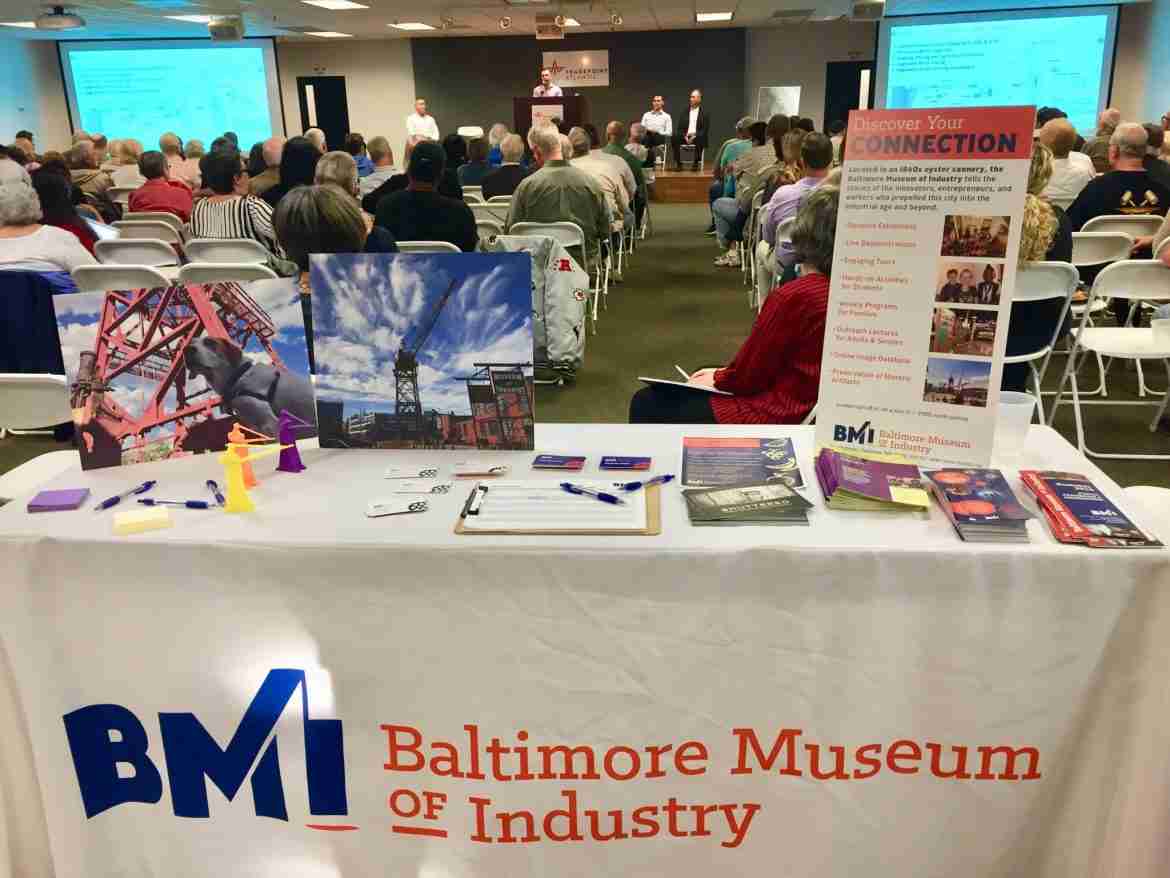 April 2019 project update by Deb Weiner
The success of the Bethlehem Steel Legacy Project depends on input from community members, so we jumped at the opportunity to present to Tradepoint Atlantic's semi-annual meeting. The meeting typically draws around 200 people—former steelworkers, residents of nearby neighborhoods such as Dundalk, Turner Station, and North Point, and others who are interested in learning more about the rebirth of the Point. We were eager to tell them about the project and hear their stories.
But, in truth, we were also a bit nervous. It's a big responsibility to be a steward of a legacy that is personal to so many people. We are grateful for the opportunity to work with the communities whose work and family lives were shaped by Bethlehem Steel. And we want to make sure we get it right.
Fortunately, it turned out that we didn't need to worry. People were eager to share recollections and interested to hear about the progress we've made over the last few months, as we've launched the project.
After a brief presentation about the museum, we talked about some of the goals of this long-term project. Though we've hit the ground running, there are still a lot of things that we are just beginning to flesh out.
Exhibition
One major goal is to create a long-term exhibit slated to open at the museum in 2021. This exhibit will finally enable the Baltimore Museum of Industry (BMI) to fill a major gap in the story we tell about Baltimore's industrial heritage. Steel was Baltimore's most important industry in the 20th century, and the fact that it doesn't have a physical presence inside the museum is something that we've needed to address for many years. The thousands of visitors who come to the museum each year will soon be able to learn about the tremendous impact of the steel industry not only on Baltimore, but on the nation.
Preservation
But the exhibition is not the only goal of this project. Another goal is to preserve the legacy of Beth Steel by collecting and preserving artifacts, documents, and stories. Others have been engaged in this preservation effort for quite a while and have done a tremendous job. Labor historian Bill Barry has tirelessly worked to save materials related to the steelworkers, and the Dundalk Historical Society holds a collection of Bethlehem Steel records that they were involved in saving when the plant closed, and which they've been adding to. In fact, the BMI already had a Beth Steel collection going back several decades.
But there's still a lot out there that needs to be saved, and since we launched this project, we've greatly intensified our efforts. Perhaps the most important result so far is that our collections staff has been going through company records that were left at Tradepoint Atlantic, and we've amassed quite a lot of material through that process.
Outreach
A third goal involves community outreach. To tell the story of Bethlehem Steel, we want to get as many perspectives as possible. We're interested in researching existing oral histories, collecting oral histories and also in finding other ways to enable people to tell their stories.
Our community outreach is not just about extracting stories and taking them back to the museum. This project has been envisioned as a partnership with local community groups and others with a stake in the legacy of Beth Steel and Sparrows Point. For one thing, we realize that the story is too big to tell in one museum exhibition. So we're looking for ways to expand our reach, and to help local people tell their own stories.
To start that process, I've been meeting with local organizations over the past couple of months to get their ideas about how the BMI might be able to partner with them in ways they think would be beneficial for them and also to get feedback on what kinds of stories are important to people. Of course, there isn't just one Bethlehem Steel or Sparrows Point story. There are lots, and we are working to figure out how we can help tell those stories both in and around the Sparrows Point community as well as back at the museum.
As our project develops, we will be sharing our discoveries and continuing to solicit feedback. Stay tuned!
Author Bio:
Deb Weiner is the Community Engagement Consultant for the Bethlehem Steel Legacy Project. An historian, writer, museum curator, and former community organizer, she has worked on numerous community history projects.