In 2021, the BMI provided kids with a variety of pandemic-proof ways to learn.
Whether that meant hosting field trips at the museum, taking the museum's programs out to classrooms, or leading students on interactive virtual tours, the BMI made sure kids kept learning.
As one fourth-grader wrote after a virtual visit, "Thanks Mr. Mike for showing my class the Baltimore Museum of Industry! It was so much fun to see what factories were like 100 years ago. I am hoping to come visit with my family to see what else is in the museum!"
And when students are happy and engaged, teachers and parents are happy too.
Thank you to your entire team for the wonderful experience you provided to the students from the School of the Cathedral today. Mr. Del spent most of the day with my son and his class, and he made it such a special day for all of us. He is clearly a pro… As a parent, it did my heart good to watch the kids learn so much while experiencing a 'normal' field trip. We all had a blast.Parent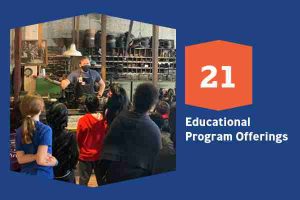 Hear more about how the BMI's flexibility made an impact in 2021, and learn more about the BMI's educational program offerings.