Gift Shop
Our Gift Shop offers a wide range of gifts and mementos for all ages. Whether you are looking for a souvenir of your visit, local art for your home, or a present for that special person, there is something for everyone!
Students on field trips can take home colorful pencils, activity books, games, or other affordable reminders of their day at the BMI.
Tourists will enjoy collectible BMI thimbles and t-shirts, Maryland-themed stickers and magnets, and Baltimore candy.
History buffs will find it hard to choose from our reproduction photographs and informative books.
Art lovers will be amazed by the local artisan items, such as hand-forged candle holders, limited-edition prints, or one-of-a-kind jewelry.
Also available in the Gift Shop:

Gift Membership packages
Engraved Brick information
Tickets to BMI programs
Donation request forms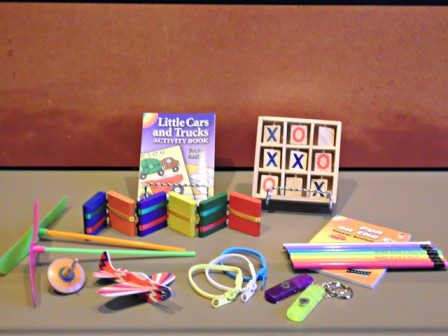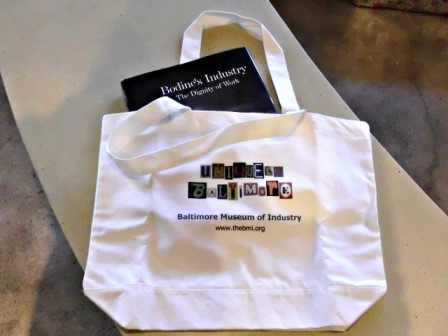 The BMI Gift Shop is open during regular museum hours. You do not need to purchase admission to the BMI to visit the Gift Shop.
We are unable to ship any items, but look forward to seeing you in person soon!
Have a question? Contact Kelley at kedelmann@thebmi.org or 410.727.4808 x132.
Featured Artists
Charlie Barton
Contemporary artist Charlie Barton produces hand-pulled, limited edition silk screen prints on Masonite in his Greektown studio. Raised by two architects, he is drawn to urban landscapes and architectural subjects.
Visitors to BMI appreciate Charlie's modern style, with its nod to the past.
* Detail "Baltimore Museum of Industry."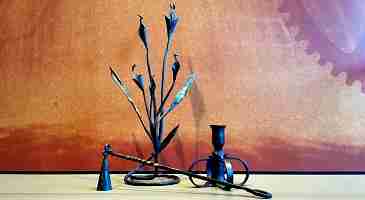 Bob Webber
Our volunteer blacksmith Bob Webber uses traditional methods to hand forge iron pieces for our shop. He has enjoyed blacksmithing as a hobby for many years and makes historic designs as well as his own creations.
Many of Bob's items were made here at BMI in our coke-fired forge.
* Flower sculpture, snuffer, candle holder
Charlene Clark
Self-taught artist Charlene Clark uses her Hampden studio to create brightly colored oil paintings. Inspiration comes from her imagination, memories, and collection of twentieth century objects and ephemera.
A frequent comment on Charlene's work is "I remember that!"
* "Food Galore in Baltimore."
Crystal Moll
Plein-air painter Crystal Moll is a familiar face around Federal Hill, as she interprets the urban landscape in light and shadow. Her paintings give the viewer the ability to enter the scene and acquire a sense of time and place.
Local residents will recognize many of the views in Crystal's work.
* "Industrial Parts."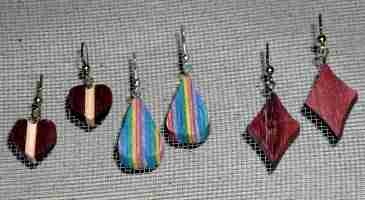 John Green
In addition to being a Senior Educator at BMI, John Green is also a skilled woodworker. He designs many of his own pieces, creating items for children and adults that are worthy of becoming family heirlooms.
All of John's work is hand-made, making each piece one-of-a-kind.
* Selection of earrings.
Carol Aaron
Carol Aaron creates her encaustic paintings by literally painting with wax: fusing wax, resin, and pigment into art. She credits the medium with a tangible depth and luminescence that helps explain the feel of what she sees.
Pieces in our shop began with Carol's photographs taken in BMI.
* Not Responsible sign.