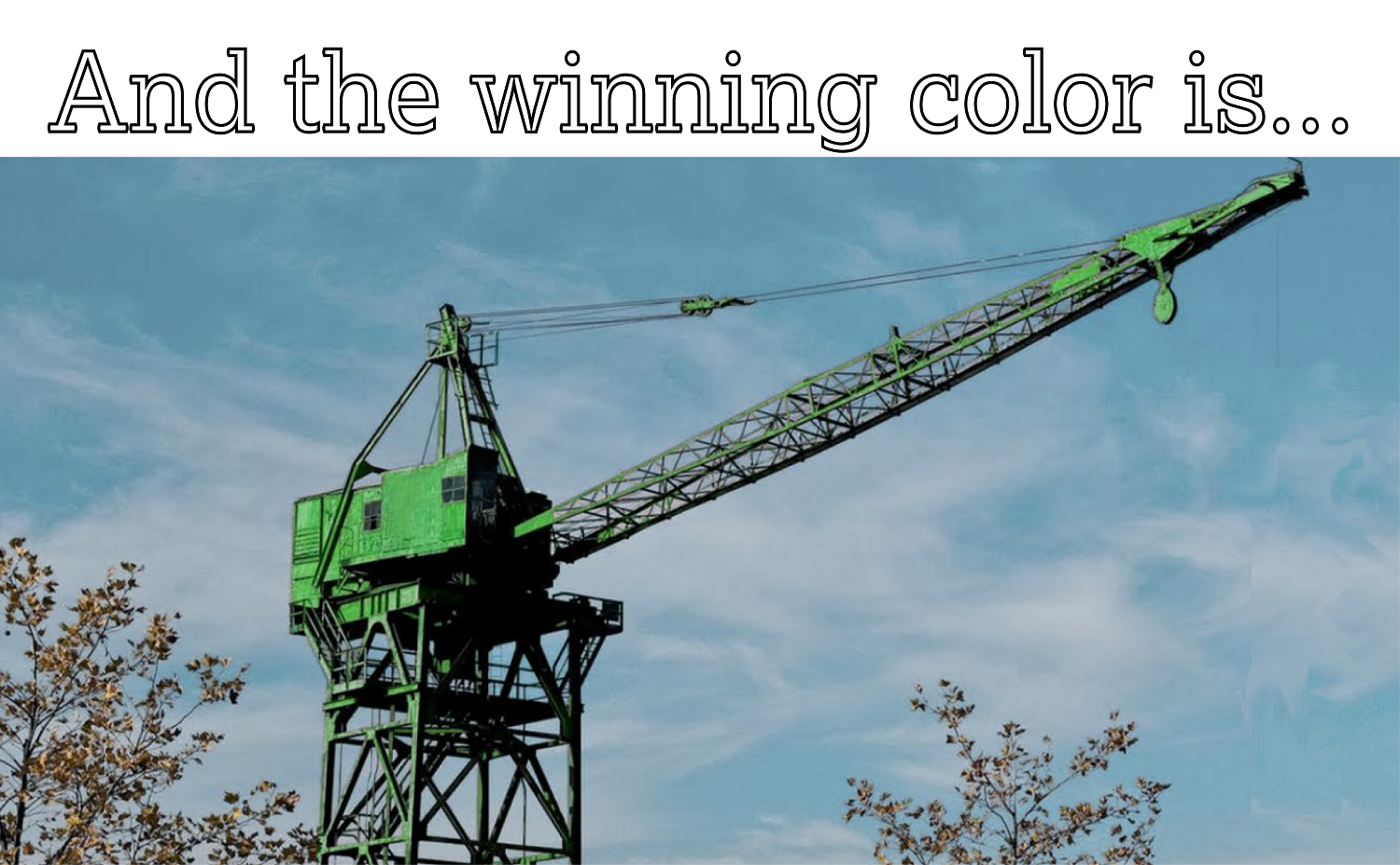 What Color Should We Paint the Crane?
You voted…and we're excited to announce the color that received the most votes in our Paint the Crane campaign was GREEN! Thank you for being part of our crane's transformation! Work is scheduled to begin in the spring of 2019.
History of the Crane
To the Baltimore Museum of Industry, the 104-foot-tall crane that graces our entrance is a historically rich beacon of progress. Yet to many who pass by, it's a large, weathered structure without a story. That's why we are thrilled to launch the first ever "Save the Crane" campaign. With your help, this storied crane will live up to its legacy as a proud shining symbol of Baltimore, a warm welcome to the Inner Harbor, and an awe-inspiring gateway to the BMI experience. To learn more about the crane please watch the incredible video below, created by Elevated Element.
Built in 1942 and dubbed a "whirley crane" for its ability to turn 360 degrees, this Bethlehem Steel Clyde Model 17 DE 90 crane was instrumental in Bethlehem Steel's prolific World War II shipbuilding effort.
The crane's unique full rotation feature allowed it to help the Bethlehem Steel Fairfield shipyard hit record-breaking production numbers of Liberty and Victory ships during the war. With more than 44,000 workers and dozens of whirley cranes, the yard was building one vessel per month by mid-1943, and launching an average of one ship every thirty-five hours.
Unlike many of its counterparts, this particular crane's service continued long after peace was restored. Following World War II, it was transferred to Bethlehem Steel's Key Highway shipyard. In an unprecedented experimental project in 1951, the crane helped "jumboize" a former Victory war ship for commercial use. This process involved adding a large midsection to the ship, and its historic success paved the way for many similar projects.
The crane remained in active service until 1982, when the yard closed. That's when the Baltimore Museum of Industry, eager to help Baltimore hold onto its incredible shipbuilding heritage, sought it out as a donation. The shipyard's new owners obliged, and the property's last standing crane was disassembled, sent down the Inner Harbor on barges, painted, and reassembled where it still stands today.
Unfortunately, after decades of weather exposure, the crane's appearance and structural integrity are in serious jeopardy.
As the largest and most visible artifact in our collection, the whirley crane is poised to be a celebrated and cherished icon for decades to come, and was selected as part of Preservation Maryland's Six-to-Fix program to protect the best of our state history.
Upon restoration, the crane will serve as a glowing source of community pride and a landmark on par with the Bromo Seltzer Tower, the World Trade Center, and the Washington Monument.
Our whirley crane has carried so much on its epic journey. Now it needs us to help with the lifting.
Please explore these recognition opportunities and decide how you'd like to help reconnect Baltimore to this industrial icon.
Learn more about the campaign to transform the historic crane into a Baltimore city landmark here via the Baltimore Sun.