How Your Gift Can Make a Difference
The Baltimore Museum of Industry inspires tomorrow's workers by celebrating the laborers and entrepreneurs who built this port city. From providing hands-on experiences for school-age children to caring for artifacts that highlight the region's industrial legacy, the Baltimore Museum of Industry imparts to visitors young and old that there is dignity in all work.
There are many ways to support the Baltimore Museum of Industry, a registered 501(c)(3) nonprofit organization:
Donations
In addition to cash donations, which may be pledged by check or credit card, the BMI also gladly accepts gifts of stock, planned or deferred contributions, and in-kind services. To discuss your giving options, please contact the Development Office at giving@thebmi.org or 410.727.4808 ext. 129.
To learn more about donating artifacts to the museum's collection, please click here.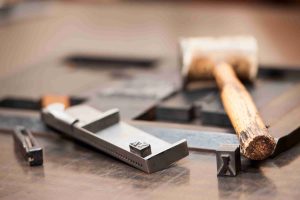 Funds
Ray Loomis Linotype Fund
The Ray Loomis Linotype Fund was established in honor of veteran Linotype operator and beloved BMI volunteer Ray Loomis. Every Saturday, Ray brings the historic Linotype machine to life for visitors. As he clicks away at the keys, Ray regales people with his memories of work as a Linotype operator and discusses Ottmar Mergenthaler's invention in his Baltimore workshop in the 1880s, launching a printing boom unmatched in history.
To make a donation to the Ray Loomis Linotype Fund, please click here. Your gift will help ensure that we can keep this remarkable machine in sound working order for years to come—and that Ray can continue to delight visitors.
Helen Delich Bentley Port Education Fund
Named in honor of the late congresswoman and BMI board member—who got her start as the nation's first female maritime reporter—and established with a generous gift from her estate, this charitable fund seeks to heighten awareness of the Port of Baltimore through the enrichment of the BMI's educational and exhibition programs and the care of its historical collections. The fund will ensure that the BMI continues to raise awareness of Baltimore's unique maritime and industrial heritage for many years to come.
To make a donation to the Helen Delich Bentley Port Education Fund, please click here.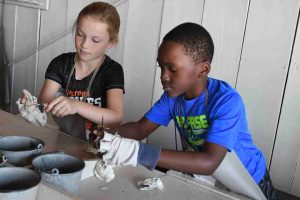 Annual Fund
Each year, tens of thousands of eager young minds take advantage of the opportunities provided by the BMI as they learn about Baltimore's unique past and curiously reimagine its future. Unfortunately, many schools in our community lack the funding for field trips, not to mention the essential educational enrichment that programs like the Kids' Cannery offers.
To make a donation to the Annual Fund, please click here. Your donation underwrites the materials, staffing, and admission subsidies that help make our programs so impactful.
Collections Acquisition Fund
This year's Collections Acquisition Fund is designated for the purchase of a unique three-part wall sculpture in aluminum, brass, bronze, and stainless steel by award-winning local artist Chris Bathgate. To aid in this effort, the artist has created a special gift available only through the BMI, a limited edition poster from one of his most recent works (shown above in right image). To learn more about supporting this project please click here.
Save the Crane
The 100-foot-tall 1942 crane that graces the museum entrance is a historically rich beacon of progress. Yet to many who pass by, it's a large, weathered structure without a story. With your help, this storied crane will live up to its legacy as a proud shining symbol of Baltimore, a warm welcome to the Inner Harbor, and an awe-inspiring gateway to the BMI experience. Learn more about the work currently underway to support the crane here.